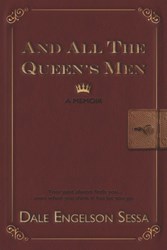 Nahville, TN (PRWEB) August 09, 2013
In her debut memoir, And All the Queen's Men, Dale Engelson Sessa dives fearlessly into her past, exploring five decades of failed relationships, insecurity, promiscuity, secretiveness, and, ultimately, deep discontent. She returns to her roots to uncover her woundedness, which, she finds, originated with a domineering father whose world-view is forced upon her at a young age. When he coerces her, at age 16, to marry the man of his choice (a 24-year-old whose bank account is deemed suitable to her father's expectations), a tumultuous cycle begins… A cycle which involves Sessa falling in love serially, with one wrong man after another—with those who are controlling, abusive, and unavailable (emotionally or otherwise). With each new man, she experiences a chasm between who she wishes for them to be and who they really are. Disillusioned time and again, Sessa pin-balls through life, unable to "find" herself in the men she attaches herself to, and therefore never sure of who she really is.
Liaisons, passion, eroticism and intrigue lace her life and the pages of And All the Queen's Men, as Sessa cultivates her sexuality and her sense of self. She pursues glamorous career paths and extravagant lifestyles, acquiring husbands and lovers along the way. Divorces, sweltry affairs, and stormy romances abound—one with the family physician, another with a Paramount Pictures TV icon. The list is enticing, as are Sessa's stories. In the telling, she discovers who she is, independent of relationships and career.
Through it all, Sessa is not only funny, but disarmingly honest, refusing to gloss over the less palatable parts of her past. In the end, the author emerges from the rubble of her crumbled relationships and finds that, at last, she is more the woman she was born to be—emotionally and spiritually fortified and free. And All the Queen's Men speaks to the hearts of women of all ages who have ever felt in conflict with themselves, with their fathers, and with the other men in their lives.
Dale Engelson Sessa lives with her husband in LA. She has written several teleplays and screenplays and is currently the owner of a design/interior architecture firm, DesignWorks. In the 70s and 80s she was recognized as the first woman to own her own international TV production company, D. Productions, Inc. with offices in LA, New York, and Chicago. Sessa is an alumnus of UCLA, and is on the boards of Cedars-Cinai, City of Hope, and the Library Foundation of LA.