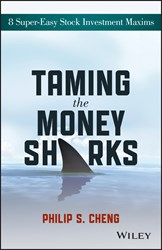 By buying investment products they don't understand," says Cheng, "investors are digging into a world of pain…
Irvine, CA (PRWEB) August 22, 2013
Launched in printed copy for the first time in the U.S., "Taming the Money Sharks: 8 Super-Easy Stock Investment Maxims" gives investors easy-to-follow guidelines for simplifying their investments, protecting themselves from the investment sharks, and achieving financial freedom. (Wiley, Aug. 2013, ISBN-10: 1118550420)
The Chinese edition of Cheng's "Taming the Money Sharks" was at the top of the Best Seller list for three months in Hong Kong.
Statistics show that only 20% of small investors ever come close to achieving their investment goals. The other 80% get eaten alive by "investment sharks"—investment advisers, fund managers and other hucksters out to line their pockets with investors' hard-earned cash.
According to author Philip S. Cheng, author of "Taming the Money Sharks," investors are generally bombarded by "misinformation." They can't filter through the "noise," and therefore, they make disastrous investment decisions.
"By buying investment products they don't understand," says Cheng, "investors are digging into a world of pain… making the mistake of potentially losing not only their entire savings but also their friends' and family's money too!"
Motivated by a sense of fair play, Cheng resolved to write an investor's survival guide in which he'd share everything he's learned in his years as a successful professional investor. The result is "Taming the Money Sharks: 8 Super Easy Stock Investment Maxims." The easy-to-follow guidelines will help investors navigate the shark-infested waters of the investment world, all the way to the financial freedom they dream of and deserve.
In an interview, Philip Cheng will talk about the following:

The Money Sharks and why they are a threat to investment success
How can any investor co-exist with "Money Sharks?" What should they do?
How to select one industry to increase profitability and avoid over-diversification
Why investors shouldn't listen to relatives, friends or stock gurus
"Taming the Money Sharks" is a must-have survival guide for novice investors and a source of fresh thinking and innovative strategies for experienced investors. The book is available at Amazon.com and Barnes and Noble online, and other book stores around the country.
Author Bio:
Prof. Philip S. Cheng is now Adjunct Associate Professor of Finance at the University of Science and Technology in Hong Kong, was the Chief Investment Officer at MetLife Taiwan, a wholly owned subsidiary of MetLife Inc., New York, the largest Life Insurance Company in the US, with approximately US$800 billion in total assets under management (AUM). Since 1996, and during his 11 years as Chief Investment Officer, he managed a diversified portfolio with total assets under management of approximately US$2 billion. He provided the leadership in setting up of investment policies and strategies to enhance portfolio yield; implementation of asset allocation strategies to increase return on equity; and the oversight and the implementation of risk management tools to achieve optimal return on capital. He received his Undergraduate Engineering Degree from the University of Minnesota, Minneapolis, USA and his MBA in Finance (Cum Laude) from St. Louis University, St. Louis, Missouri, USA.
For an interview with Philip Cheng, call Darlene March – 714-887-8021 or email darlene(at)marchmediarelations(dot)com.