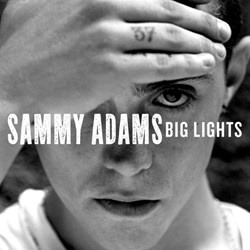 "ONE World Sports is very excited to have such an energetic network theme song," said Alexander "Sandy" Brown, president and CEO of ONE World Sports. "Sammy Adams' and his song 'Big Lights' are sure to resonate with our expanding audience of global sports
New York, NY (PRWEB) August 09, 2013
ONE World Sports, which offers coverage of world-class sporting events from around the globe, has set the hip-hop hit "Big Lights" by Sammy Adams as its network theme song.
"Big Lights" is RCA Records' recently released single by the Boston-based musical artist, whose meld of hip-hop, electronica and dance sounds first caught notice with his 2010 album, "Boston's Boy." Adams was also a standout athlete when he first broke out musically, as the captain of the soccer team at Hartford, Conn.'s Trinity College.
Making "Big Lights" ONE World Sports' theme song is in line with the network's established appeal with 18- to 34-year-olds, who also form Adams' core fan base. Recent research by Frank N. Magid Associates found the network has strong appeal to millennials, thanks to its unique global sports focus and exclusive, live content.
"ONE World Sports is very excited to have such an energetic network theme song," said Alexander "Sandy" Brown, president and CEO of ONE World Sports. "Sammy Adams' and his song 'Big Lights' are sure to resonate with our expanding audience of global sports fans."
Adams is considered a rising young talent on the artist roster of Sony Music's RCA label.
"It's amazing that 'Big Lights' has become the network theme song for ONE World Sports," Adams said. "I love to watch the network and use its website to keep up with a few of my favorite soccer clubs whenever I'm on the road and miss matches. I also like becoming more acquainted with some of the other many sports featured on the network and its site."
The bouncy digital sounds of "Big Lights" frame the song's lyric refrain:
Lights lights, black and white, every color flow, they so bright;
We over here on the Westside.
Girls dressed up, clothes skin tight;
So fly, you don't even need an invite.
No invitation needed to catch ONE World Sports—for subscribers of DISH Network, Cablevision's Optimum TV and Mediacom Communications cable systems, and the recently launched Google Fiber network.
About ONE World Sports
ONE World Sports is an English-language network delivering exclusive and live world-class sports from around the globe. ONE World Sports fulfills fans' passion for premier match-ups of their favorite sports with more than 2,400 hours of unduplicated sports programming annually.
Programming includes live and same-day action of leagues and competitions in soccer, basketball, baseball, golf, table tennis and badminton. The network is available on DISH Network, Cablevision's Optimum TV, Mediacom Communications and Google Fiber.
ONE World Sports is headquartered in New York. Corporate parent ONE Media Corp. also owns ONE CONNXT, a global HD/SD broadcast video transport services provider; America ONE Television, a general entertainment and sports broadcast network; and America ONE Sports, a leading provider of live broadband sports.
For more info, see http://www.oneworldsports.com
# # #
For more information, contact:
Carl DiOrio
Bob Gold & Associates
p. 310-320-2010; carl(at)bobgoldpr(dot)com