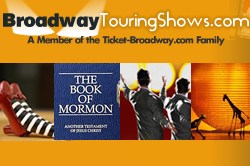 Following Wicked Minneapolis look for these shows to grace the Orpheum stage: Phantom Of The Opera, Evita, Mamma Mia!, Once, Sister Act and Ghost.
Minneaplois, MN (PRWEB) August 09, 2013
After a successful run on Broadway in New York City Broadway shows often tour throughout the United States and Canada to bring the plays to a larger audience and usually at deep discounts compared to the price of the tickets on Broadway. Sometimes these touring shows even maintain a long string of dates in larger cities such as Chicago or Boston where the Broadway touring fan base remains large and active.
In smaller cities like Minneapolis a Broadway touring show may still appear, but more likely for just a few performances. The Twin Cities will soon play host to one of the tour stops for Broadway's hit show Wicked. The 10 Tony award winning Broadway phenomenon will perform in Minneapolis starting Wednesday, September 18th at the Orpheum Theatre running through October 27. Following Wicked Minneapolis look for these shows to grace the Orpheum stage: Phantom Of The Opera, Evita, Mamma Mia!, Once, Sister Act and Ghost The Musical. For more great Minneapolis performing arts review the schedule at the two theaters that make up the Guthrie complex too.
Minneapolis hosts some of the greatest artistic venues in the country including The Science Museum of Minnesota, Walker Art Center, Mill City Museum, and the Minneapolis Uptown Art Fair which is attended by an average of 375,000 people each year.
Whether you're a lifelong resident of Minneapolis, or simply visiting for a few days, you'll find a vast list of events, and artistic endeavors in the Twin Cities area. Aside from art openings and exhibitions, an extraordinary number of musicians make Minneapolis one of their tour stops throughout the beautiful summer and autumn months. One such musician, Josh Groban plans to be at The Target Center in Minneapolis October 19th. Josh Groban tickets are available now from Tickets-Cheapest.com for prices that beat most other resale sites for all major concerts including the 2013 Eagles Tour which arrives in Minneapolis September 18.
A Recently Relocated Resident Of Minneapolis, Corey Brenner Will Be Displaying Internationally Acquired Photographs During His The Tales We Frame Exhibit Starting August 10th At Dunn Brothers On 2544 Nicollet Ave. Minneapolis MN 55403. With a ubiquitous sense of adventure and a masochistic need to separate himself from the tranquil paths in life, Corey Brenner devoted the majority of adulthood to searching for beauty in a multitude of oddly realized locations. Teaching English in foreign countries, jumping from moving trains, and exchanging life stories with vagrants led to a great bounty of anecdotes. A variety of those will be featured in this first artistic installment on August 10th.
Minneapolis earned the right to be ranked highly in so many categories. This year the city received "#1 Best Parks" by USA Today, "#1 Best City to Bike In" by Bicycling Magazine, and "Top 25 Best Mid-Size Cities for Art" by American Style Magazine. Don't miss out on the incredible opportunity to enjoy some of the finest art and music Minneapolis has to offer.
Bike on down to the Dunn Brothers location on the corner of Nicollet and 26th Street for a chance to experience "The Tales We Frame," a unique view into creative travel photography. Or take a Minneapolis "Nice Ride" bike to the Target Center or the Orpheum Theatre for an opportunity to hear one of the most prominent upcoming vocalists in music today and catch a Broadway touring show that's quickly sweeping the nation. When facing a long trip make a weekend out of it by staying in Minneapolis or booking one of the St. Paul Hotels just across the river. But hurry! As you well may know, the weather might not permit biking for very much longer!
About Financial Firebird and Broadway Touring Shows
The site to buy Broadway Touring Show Tickets online and its sister sites, including the Broadway NY Tickets and Hotels in New York City site and the cheapest events tickets site all geared for the consumers looking for low prices on tickets, are affiliated with the Financial Firebird Corporation Travel Group, and stand among the top sites sought by travelers and people who enjoy concerts, pro sports and theater performances. Financial Firebird Corporation provides unbiased consumer information, software and marketing services - established 2000 and a proud BBB member. These sites for consumers to buy tickets online operate in the resale market and maintain no relationship with the venues or performers; the resale ticket market allows consumers access to popular events once the box office has sold out or to buy premium seats when the venue no longer offers any inventory. Within the group of these secondary market ticket services the Financial Firebird owned ticket sites offer lower prices than competitors. Find the site at BroadwayTouringShows.com.