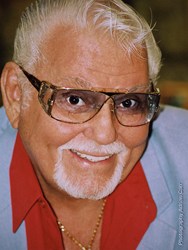 The only man who teaches actors to survive in the Hollywood Jungle. - Jay Bernstein, one of Hollywood's most influential publicists and managers (1937-2006)
Hollywood, CA (PRWEB) August 09, 2013
In the heart of Hollywood CA, CEO Ivan Markota of Van Mar Academy was a Legendary Acting Coach for over 40 years, coaching Rick Dees, Sherri Shepherd and others, Susan Johnston, Casting Director witnessed. Ivan Markota started out as a Paratrooper in WWII, and then became and actor in classics such as In Like Flint and Land of the Giants.
Former President of the Acting Coaches and Teachers Association, Ivan offered scholarship programs at his state approved Van Mar Academy so new talent could participate in four weeks of classes helping countless talent that arrived on the doorsteps of Hollywood to become stars.
Ivan and Jay Bernstein [one of Hollywood's most influential publicists and managers (1937-2006)] were dear friends and often would refer their talent to the other, all to help catapult that talent to stardom.
"Jay Bernstein gave me his, I don't know if you want it power. He gave me his position. He said I was the guru of marketing actors in Hollywood, and that I did exactly what he did to make as many stars as he made," Ivan Markota.