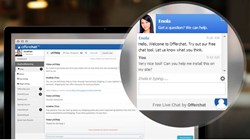 Live chat for ecommerce is expected to revolutionize the way answer customer inquiries is done online.
(PRWEB) August 09, 2013
To enable online merchants selling creative arts, crafts and indie products answer inquiries about items displayed on their ecommerce site, Offerchat developed a live chat specifically made for ecommerce.
Live chat for ecommerce is expected to revolutionize the way answer customer inquiries is done online.
In the past, communication channels centered around telephone calls and email exchanges. The popularity and wide use of social media by small businesses and huge brands for community building transformed social networking sites into customer service support channels.
However, all these channels require the shopper to shift attention away from the item or page being viewed when the need to contact a seller arises. This shift in attention to call, email, tweet or Facebook message the seller has discouraged many shoppers, especially those who are casually shopping with no sense of heavy urgency to buy yet significantly ready to purchase.
A live chat widget embedded on the e-commerce site eradicates this attention shift from the seller's page. When an inquiry comes to an online shopper's mind, that shopper can just click to expand the chat widget and get answered by the seller right there and then.
Sellers and e-commerce site owners can start chatting on their website by logging in to the chat dashboard or control panel at Offerchat.com. They can register to Offerchat and get their own unique code to be embedded to their e-commerce shop's HTML theme. Upon successfully adding the code, the customer-facing chat widget will be visible to shoppers right away.
Offerchat live chat for ecommerce is compatible with most popular browsers (Firefox, Chrome, and Internet Explorer 9). The control panel where handicraft sellers can reply to incoming customer chats from an Offerchat live chat widget on their site doesn't need a special software but rather works in the cloud and can be accessed anywhere there is internet connection.
About Offerchat
Offerchat is a live chat tool for ecommerce websites. It helps online shoppers and e-business owners communicate on-site without leaving the page or the site. Because it is real-time, easy and convenient for both customers and sellers, transactions are completed easily and more sales are made.