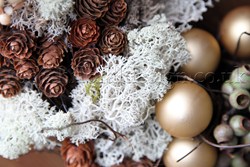 'We are really looking forward to installing this seasons window display,' says head consultant Laura Fisher. 'We will be using a combination of fresh flowers and stylish fabrics and hope it will attract passers-by to stop and marvel at our design.'
(PRWEB UK) 12 August 2013
The Fashion world will be gathering in London from the 13th-17th September 2013. The show will be bringing together the fashion industries leading experts who will launch their Spring/Summer 2014 Fashion collection in Summerset House, Strand.
The consultants at Todich Floral Design will be working with their client in creating a dazzling window display that will be heavily influenced by todays current Vogue.
The florist will be sourcing an antique mannequin which will be the focal point of the display. The floral design team in London will then create a mesh where they will weave fresh flowers, preserved flowers and exotic foliage which will form into a shape of a dress
The window display will include two dress styles during the month of September; the first installation will be displayed during the first fortnight and will have a colour palette of red, orange and gold, the dress will be designed with willow twigs, floral cotton fabrics, red oak, eucalyptus and striking autumnal orchids.
The second dress will be in spring colours and will represent the Fashion shows winter/spring 2014 collection. This dress will be made up with trailing ivy, organza fabric, blossoms and garden roses, this design will have a colour palette of whites, pinks and lilacs.
The first installation will take place on Monday 2nd September; the florist company in London will update their Facebook and Twitter page with a diary account and photos of the exciting event.
About Todich Floral Design
Todich Floral Design is a specialised events florist based in the heart of London. Established for over 20 years, the company has built up a renowned reputation in creating exquisite flower designs for all London events. The online florist over the years has been recognised for its bespoke arrangements and award winning customer service which has made them one of the most reputable florists in the UK.