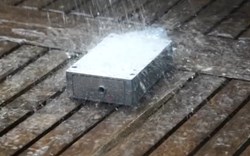 "Good to see something more robust than the range of cases currently available." - Raspberry Pi Spy
Nantwich, Cheshire (PRWEB) August 12, 2013
PiCE is Industrially designed to keep the Raspberry Pi safe, even outdoors and lets people program, shoot video, game, overclock and play with electronics.
So, what's so good about this case? Well, the main difference between PiCE and other cases is that PiCE is made from metal and is water resistant. It doesn't care if coffee or water is spilled on it or if it's left outside in the rain.
And that's not all! It also:

Houses the new camera, so video can be streamed to friends or it can be used as a personal security camera.
Is made from die-cast Zinc for strength so there's no worry of the Pi getting damaged or broken and it can be taken anywhere.
Has removable side panels to hide and access the Pi's Ports so it can be used for hacking and programming all night long.
Has an innovative method of passive cooling so the Pi can be played without the worry of causing it damage.
Includes expansion via internal daughter board Increasing the Pi's hack-ability!
Integral SD card for security.
Tri-pod connectivity to hold PiCE steady while it takes pictures & shoots video.
and more!
Elson Designs are Dave, Phil & Debbie and they have spent a lot of time designing the case and it will even be manufactured in the UK ensuring support for UK jobs and business.
To find out more, head over to Kickstarter and check out what PiCE can offer!
We will happily feature you on our PiCE Kickstarter page to drive extra traffic to your site and we'd even love to hold a competition for one of your readers to win a brand new PiCE. Feel free to contact me on any of the methods below if you have any questions.
Thanks,
Debbie Elson
Office: 01202 626661
Mobile: 07900498250
Email: debbie(at)elsondesigns(dot)com
Twitter: @elsondesigns
Facebook: facebook.com/elsondesigns