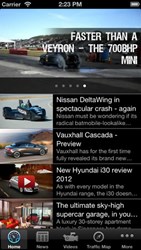 Liverpool (PRWEB UK) 12 August 2013
The MotorTorque app has retained the top spot in the iOS app store for 'car videos' and 'car news', beating out larger rivals such as 'Top Gear' and 'Car Buzz'. After recently celebrating the apps first birthday, MotorTorque is delighted with the continued chart success.
As part of The Auto Network group, MotorTorque.com provides car enthusiasts with the latest car news, reviews, guides and videos. The online site is becoming one of the most authoritative automotive sites in the industry and the app is playing a huge part in that.
The MotorTorque app was created to reach a wider spectrum of the motoring community. As a digital marketing agency, The Auto Network designed the application to broaden its reach and increase interaction with its motorist audience. The app originally aimed to fill a gap in the market, presenting high quality written and video reviews in one place. It now provides a place for enthusiasts and first time buyers alike to get all the information and news they need.
The app is a mobile hub for all of the website's main features, as well as featuring a handy traffic alert tool. In the upwardly mobile-social world, it also incorporates the ability to instantly share content on social media. The traffic alert tool utilises the devices' location to ensure the most up-to-date traffic news is sent to the user.
MotorTorque's many review and first drive videos can be accessed easily using the app. The video reviews are proving popular with the app users, now with over three million views to date. With reviews of increasingly more high-profile cars on the horizon, this is set to rise considerably.
Simon McBride, the Editor for MotorTorque added:
"I'm overjoyed with the phenomenal success of the MotorTorque app. It is a great feeling to be sitting in number one spot – this could only have been achieved through the dedication and the hard work of The Auto Network team."
MotorTorque is undergoing a period of increased growth and this is only the beginning. For more information, try out the app.
About The Auto Network:
Formed in 2002, The Auto Network is the UK's leading automotive marketing agency, specialising on lead generation and digital marketing. In the decade since its inception, The Auto Network has delivered thousands of sales, test drives and brochure request leads each month to manufacturers, dealers and the leasing industry. Clients include Vauxhall, Honda, Perrys, Seat and more.
Contact The Auto Network:
Richard Wood,
The Auto Network,
1st Floor Beetham Plaza,
25 The Strand,
Liverpool,
L2 0XJ
Tel: +44 (0)844 445 7862
Email: richard[dot]wood[at]theautonetwork[dot]co[dot]uk