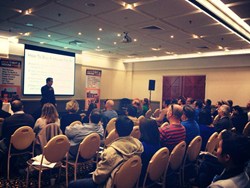 The biggest mistake that a seller can do in a property transaction is to talk to the buyer about the new taps and paint jobs of the house, instead of selling the opportunity of how buying with creative strategies can benefit the buyer
(PRWEB) August 12, 2013
Rick Otton, the author of How To Buy A House For A Dollar, will be visiting Geelong on 17 August to talk about ways on how to sell Geelong real estate easily in his live, one-day real estate seminar.
Geelong is one of the fastest growing regions in the country and it has been experiencing an even more significant boon after the approval of a $2 billion investment from Victoria's planning department in March of this year.
The investment has produced nearly 6,000 new homes in Armstrong Creek West and Planning Minister, Matthew Guy, projects that it will produce 22,000 new jobs, which will allow over 60,000 people to live in the area once the project has been completed.
Mr. Otton, a respected property coach, told the listeners of his Creative Real Estate iTunes Podcast that sellers do not need to wait for the next big development project in order to sell their property so long as they focus more on people and not their houses.
"The biggest mistake that a seller can do in a property transaction is to talk to the buyer about the new taps and paint jobs of the house, instead of selling the opportunity of how buying with creative strategies can benefit the buyer," he explained.
Mr. Otton also shared in the podcast that sellers should build rapport with the buyer and find out why he wants to own a Geelong property because is information will help him in creating a deal that will be mutually beneficial for the both of them.
"We're not really in the house business; we're in the property solutions business. That's why it's important to focus the negotiations on how people can get a house without applying for a home loan or paying a high deposit," Mr. Otton pointed out.
"Sellers, however, must remember that they shouldn't over complicate the discussions by explaining the entire process to the buyers," Mr. Otton warned. "People only want to hear the benefit of how it works, not the technicality of how it works," he added.
Mr. Otton invites Geelong residents to attend his Geelong property event in 17 August, so they can learn more useful real estate tips from How To Buy A House For A Dollar.
Visit http://www.howtobuyahouseforadollar.com/ now to secure your free seat for Rick Otton's Geelong real estate event!
About Rick Otton
Rick Otton has spent decades making money by snapping up inexpensive real estate and putting it to work building wealth, and teaching others to do the same.
He is the founder and CEO of We Buy Houses, which operates in the US, UK, Australia and New Zealand, and through this business he puts his strategies to work every day.
Mr. Otton received his start in alternative real estate investment in 1991 in the US, and within a year acquired 76 properties. In subsequent years, he made a fortune using his low-risk, high-reward strategies to inexpensively acquire real estate. He continues to do so.
As well, Mr. Otton travels between his home in Australia, and the UK, sharing his wisdom and teaching others how to buy and sell real estate, free from the constraints imposed by traditional lenders.
In 2013, Rick is celebrating the 10 year anniversary of introducing his property option strategies to real estate investors in the United Kingdom – the first person to reveal these ground-breaking strategies. In 2008, he created the first of his 'Houses for a Pound' strategies, upon which he grows as markets and laws evolve.
Mr. Otton has been featured in a variety of television programs and magazines, and in 2013, he published 'How To Buy A House For A Dollar' for the Australian market. This book has been named in the list of the Top 10 Most Popular Finance Titles for 2013, as voted by Money Magazine and Dymocks Book stores. A UK version is on the drawing board.
For full details of Mr. Otton's upcoming 'How to Buy a House for a Dollar' seminars in major cities across the nation, visit HowToBuyAHouseForADollar.com or phone, in Australia 1300 888 450.
For general information about Mr Otton, visit http://www.RickOtton.com/.