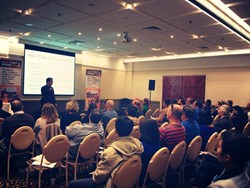 With the traditional process there is no way for people with no money to enter into these 'hotspot' locations
(PRWEB) August 16, 2013
"Many people turn to real estate 'hot spots' when they want to find a great place to invest, but the truth is that the real property 'hot spots' are those where you can buy a house with no money," explained Rick Otton, a respected property coach in Australia, about the recent 'hot spot' alert on Townsville property.
Real Estate analysts cited that a growing number of southern investors are flocking the city due to the many investment 'hotspots' in the area. Experts say that the city's population size, stable economy and the diverse industries that are present in the area are the key characteristics, which make Townsville real estate a good investment.
In the latest episode of his Creative Real Estate podcast, Mr. Otton told his listeners that they should not rely on reports alone, when it comes to determining where to find 'hotspot' properties. He further advised to make use of alternative real estate strategies as this will allow them to find a 'hotspot' virtually anywhere.
"Think about this, there is still a possibility that investors may not actually get a property in these locations, because the banks are not approving new housing loans anymore and if they do qualify for loans, an investor must still face stamp duties and additional fees, which will shoot the price of the house through the roof," Mr. Otton said.
"With the traditional process there is no way for people with no money to enter into these 'hotspot' locations," according to Mr. Otton.
"The situation is very different, however, for those who follow creative real estate processes. In linking sellers who want to let go of their debt with buyers who are eager to pay their liabilities, anyone can get a Townsville property for only one dollar," he shared.
"The massive cost of investment under a traditional process is convincing more and more people to follow creative real estate strategies, and the residents of Townsville will get the opportunity to learn more about these solutions if they join me in my one day seminar on 20 August," Mr. Otton said during the podcast.
Everyone is invited to go to Rick Otton's Townsville real estate event. Visit HowToBuyAHouseForADollar.com now to reserve a seat.
About Rick Otton
Rick Otton has spent decades making money by snapping up inexpensive real estate and putting it to work building wealth, and teaching others to do the same.
He is the founder and CEO of We Buy Houses, which operates in the US, UK, Australia and New Zealand, and through this business he puts his strategies to work every day.
Mr Otton received his start in alternative real estate investment in 1991 in the US, and within a year acquired 76 properties. In subsequent years, he made a fortune using his low-risk, high-reward strategies to inexpensively acquire real estate. He continues to do so.
As well Mr Otton travels between his home in Australia, and the UK, sharing his wisdom and teaching others how to buy and sell real estate, free from the constraints imposed by traditional lenders.
In 2013 Rick is celebrating the 10 year anniversary of introducing his property option strategies to real estate investors in the United Kingdom – the first person to reveal these ground-breaking strategies. In 2008 he created the first of his 'Houses for a Pound' strategies, upon which he grows as markets and laws evolve.
Mr Otton has been featured in a variety of television programs and magazines and in 2013 he published 'How To Buy A House For A Dollar' for the Australian market. This book has been named in the list of the Top 10 Most Popular Finance Titles for 2013, as voted by Money Magazine and Dymocks Book stores. A UK version is on the drawing board.
For full details of Mr Otton's upcoming 'How to Buy a House for a Dollar' seminars in major cities across the nation, visit HowToBuyAHouseForADollar.com.au or phone, in Australia 1300 888 450.
For general information about Mr Otton, visit http://www.RickOtton.com.