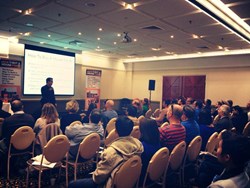 A great solution to get these properties out of debt and into a positive cash flow is to sell them creatively. There are so many solutions available for different types of situations with creative real estate processes; unlike with the traditional process
(PRWEB) August 17, 2013
In line with his upcoming real estate training event in Hobart on 27 August, Rick Otton, the creator of creative real estate strategies, shared some techniques about how to turn around negatively geared properties in a gloomy Hobart real estate market.
The 2013-2014 State of the Regions report, which was released a few weeks ago, bore a grim assessment for Hobart. It revealed that the average value of a Hobart property has significantly dropped from "$405,000 in 2010 to $341,300 this year."
It also added that in the same period, the average salary of Hobart residents slipped from $22,133 to $20,700, while unemployment is at 43.4 percent.
"Negatively geared properties are houses which have as lower value than the actual debt in it. This, unfortunately, is happening not only with Hobart property," Mr. Otton explained in a new episode of Creative Real Estate iTunes podcast.
"In fact, 2 out of 3 investment property owners in Australia are losing money from owning negatively geared properties, and collectively they lost around $13.285 Billion from this setup," he added.
"A great solution to get these properties out of debt and into a positive cash flow is to sell them creatively. There are so many solutions available for different types of situations with creative real estate processes; unlike with the traditional process which only forces sellers to bring down the price to make a sale," according to Mr. Otton.
Mr. Otton then shared 2 popular solutions used by his students when creating property deals between sellers and buyers.
"The handyman special is often used with buyers who have the skill set for fixing and building homes, but don't have enough cash to pay the up-front deposit. There is also the rent to buy or lease option which gives a renter the option to buy the unit he is renting at the end of the contract," Mr. Otton said.
"Another thing which makes these strategies unique is that it can be used without applying for a bank loan, which means that anyone can apply them anywhere, anytime, and even when property markets are down," he said in the podcast.
Go to http://www.howtobuyahouseforadollar.com/ now to claim your free seats to Rick Otton's Hobart real estate event on 27 August.
About Rick Otton
Rick Otton has spent decades making money by snapping up inexpensive real estate and putting it to work building wealth, and teaching others to do the same.
He is the founder and CEO of We Buy Houses, which operates in the US, UK, Australia and New Zealand, and through this business he puts his strategies to work every day.
Mr. Otton received his start in alternative real estate investment in 1991 in the US, and within a year acquired 76 properties. In subsequent years, he made a fortune using his low-risk, high-reward strategies to inexpensively acquire real estate. He continues to do so.
As well, Mr. Otton travels between his home in Australia, and the UK, sharing his wisdom and teaching others how to buy and sell real estate, free from the constraints imposed by traditional lenders.
In 2013, Rick is celebrating the 10 year anniversary of introducing his property option strategies to real estate investors in the United Kingdom – the first person to reveal these ground-breaking strategies. In 2008, he created the first of his 'Houses for a Pound' strategies, upon which he grows as markets and laws evolve.
Mr. Otton has been featured in a variety of television programs and magazines and in 2013 he published 'How To Buy A House For A Dollar' for the Australian market. This book has been named in the list of the Top 10 Most Popular Finance Titles for 2013, as voted by Money Magazine and Dymocks Book stores. A UK version is on the drawing board.
For full details of Mr. Otton's upcoming 'How to Buy a House for a Dollar' seminars in major cities across the nation, visit HowToBuyAHouseForADollar.com.au or phone, in Australia 1300 888 450.
For general information about Mr. Otton, visit http://www.RickOtton.com/.