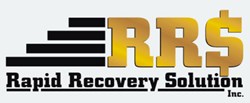 Bohemia, NY (PRWEB) August 09, 2013
On August 9, Collection agency, Rapid Recovery Solution, comments on an article published by Business News Daily on August 2, 2013 titled "Personal Finance Problems District Workers" which discusses full time employees wasting time at work due to stress they accrue regarding finances.
People work to make money. People make money to buy things. Sometimes when people buy things they utilize credit. When people use credit they accrue debt. In the article, Richard Carrano, president and CEO of Purchasing Power says, "Stress over money takes both a mental and physical toll on workers." That statement makes it easy to understand how more than 40 percent of fulltime employees lose productive work time due to stress over financial reasons. This causes a terrible cycle, stressing about financials leading to unproductive work, which leads to termination of employment, which leads to debt, which leads to conversations with debt collection services.
"We usually deal with businesses, but even in that respect we understand that people in debtor scenarios are most likely down, so we try to be as sensitive to their situation as possible. We know that when a person's down or stressed they are less likely to perform at their best," says John Monderine, CEO of collection agency Rapid Recovery Solution.
The article says that the 40 percent of people stressing about financial problems at work spend two to three hours a week dealing with these issues. Three hours a week equals 3.9 weeks of the year. That's longer than most people's vacation time. Companies that are trying to be proactive about this staggering statistic are offering financial planning classes to help relieve their troubled staff of financial heartache.
Founded in 2006, Rapid Recovery Solution, Inc. is headquartered on beautiful Long Island. Rapid Recovery collection agency is committed to recovering your funds. They believe that every debtor has the ability to pay if motivated correctly. They DO NOT alienate the debtors; they attempt to align with them and offer a number of ways to resolve not only your debt but also all their debts.