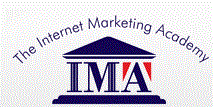 (PRWEB UK) 12 August 2013
The Internet Marketing Academy have just launched a new range of fully-funded internet marketing training courses, specifically designed for first time marketers, start-up companies and small business owners.
Marketers and business owners can now sign up online to receive access to over 35 hours' worth of internet marketing e-learning sessions, which will provide users with a wealth of tips and techniques to help them create and improve their on-going marketing strategy for their business.
The training sessions cover everything from web design principles and generating targeted web traffic, right through to mastering Google Adwords and social media marketing – plus everything in between.
The IMA's internet marketing training courses will cater to everyone from marketing beginners and business owners who have never had any experience of marketing their business online, to intermediate level internet marketers who are looking to improve and enhance their current internet marketing skills and become more successful online – right through to the advanced level internet marketers who want to push themselves above the competition through a superior knowledge of internet marketing techniques.
To sign up The Internet Marketing Academy's fully-funded training today, please visit: http://www.internetmarketingacademy.com
Following the online training, marketers and business owners can take a range of online assessments to receive a formal accreditation via the Institute of Sales & Marketing Management (ISMM) which is recognised globally.
The IMA is offering 3 levels of accreditation which include the Internet Marketing Essentials, the Internet Marketing Professional and the Internet Marketing Practitioner. The accreditations are optional and each level of accreditation requires a formal assessment to be submitted to the IMA. Each assignment consists of one or more tasks and all of the tasks must be appropriately completed in order to pass the assignment.
For more information about the online training and internet marketing accreditations please visit http://www.internetmarketingacademy.com/internet-marketing-training.