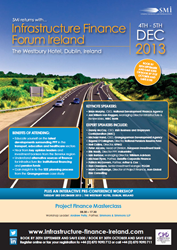 London, UK (PRWEB UK) 12 August 2013
SMi returns to Ireland with the Infrastructure Finance Forum and the final programme has been released.
Key topics of this conference include:
*Overview of the Irish Market
*Latest developments surrounding PPP in the transport, education and healthcare sectors
*Alternative sources of finance: pension funds, bank financing, institutional financing...
*Long term infrastructure finance
*Contracts and contractors
*Risk management and new initiatives
This conference creates the perfect platform for both private and public sectors to discuss current issues and recent developments as well as creating great networking opportunities, meanwhile helping infrastructure finance continue to move forward within Ireland.
Confirmed speakers include:
*Brian Murphy, CEO, National Development Finance Agency
*Jan Willem van Roggen, Managing Director Infrastructure & Renewables, NIBC Bank
*Danny McCoy, CEO, Irish Business and Employers Confederation (IBEC)
*Michael Hand, CEO, Grangegorman Development Agency
*Eugene O'Callaghan, Director, National Pensions Reserve Fund
*Neil Collins, Director, KPMG
*Peter Jacobs, Head of Division, European Investment Bank
*Erik Naafs, Director PPP, VolkerInfra
*Iain Barbour, Managing Director, Trifinium Advisors
*Michael Flynn, Partner, Deloitte Corporate Finance
*Patrick McGovern, Partner, Arthur & Cox
*Han Claessens, Senior Investment Manger, PGGM
*Mark Courtneidge, Director of Project Finance, Aon Global Risk Consulting
Click here to download the programme.
Who should attend this conference:
*Investment Managers
*Hedge Fund Investors
*Directors of Finance / Financial Managers
*Directors of PPP/PFI projects
*Vice Presidents
*PPP/PFI Project Managers for Council projects
*Government financial employees
*Chief Executives of finance departments
*Heads of national banks
*Modelling software sellers
*Financial education
*Law firms
*Consultancies
*Construction
*Insurance companies
Contact Aaron Jackson on +44 (0) 20 7827 6064 or email ajackson(at)smi-online(dot)co(dot)uk