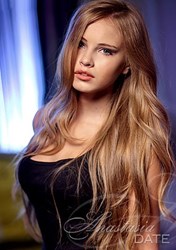 (PRWEB) August 14, 2013
Anastasia Date is officially one of the world's most popular international dating sites according to ratings online. The company announced the good news recently after recording a huge surge in new memberships for its exclusive dating service.
The company is known around the globe for providing high quality dating services for over four million members. In recent weeks, thousands of members have been spreading the word, and sharing news about why they have chosen Anastasia Date as their top online dating company.
Members are praising the company for its exclusive service which gives discerning members a vast choice of interesting and attractive people to connect with. They are saying that on Anastasia Date, they can send personal messages, and chat to each other, enjoying the whole process of getting to know each other. Many members are also praising the company for its recently launched app.
The app, which can be downloaded from Google Play, gives members the ability to enjoy their Anastasia Date experience wherever they are, using their mobile device. The popularity of the dating service is growing rapidly, with thousands of members having downloaded the app already.
The company released a statement recently which thanks all the valued members for their loyalty and praise for the company. It is proud to be serving a group of such wonderful people who are clearly getting the best from the online dating service. Many couples are reporting blossoming romances as are result of membership with Anastasia Date.
Social media platforms are also contributing significantly to the rise in popularity and high ranking the company is now experiencing. Anastasia Date receives excellent reviews and feedback from members via Twitter, Facebook, and a variety of online forums. These excellent reviews are being made by members from all over the world.
The company's membership figures, which have growing significantly in recent months, are still climbing and the company believes this is due to the high ranking it has achieved. News of the Anastasia Date service is clearly spreading as more members share their experiences online within their own networks of friends and acquaintances.
AnastasiaDate is made up of a huge team of internet, marketing, and online dating professionals who work hard to deliver a top class, exclusive online experience for every single member.
The company is now focused on maintaining the positive momentum and popularity it has gained, and is determined to continue providing the best online dating service possible. Work will continue, as it has done for over twenty years. The company uses the latest technology, and most experienced professionals, to monitor systems twenty-four hours a day, and ensure everything is running effectively.
Further developments and improvements are being planned, the company reported, and it is planning to announce these in coming months as new innovations are implemented.
In the meantime, the company is inviting members to continue spreading the good news by sharing their stories of love and romance across the miles with the beautiful international partners who met on AnastasiaDate.
About AnastasiaDate
AnastasiaDate is the leading international dating service that facilitates exciting and romantic companionship with beautiful and interesting women from all over the world. Founded in 1993 by a Russian-American couple, AnastasiaDate now has over 4 million international users and attracts more than 10 million online visits monthly. Additionally, over 1.5 million conversations are exchanged onsite daily. AnastasiaDate is committed to member safety, customer satisfaction and the on-going pursuit of innovation. Headquartered in Moscow and New York with additional representation in every country it touches, AnastasiaDate provides a high level of customer service to a worldwide clientele. AnastasiaDate users are able to communicate across a variety of top-notch multimedia platforms, including video chat and a mobile app for Android devices available in the Google Play store.