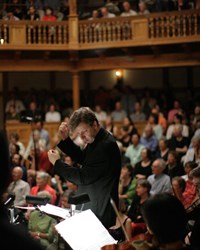 "Staunton's historic venues provide beautiful and intimate spaces for exquisite chamber music performances."
Staunton, Virginia (PRWEB) August 09, 2013
It will be a week of musical virtuosity, bold ideas, and dazzling performances. Staunton Music Festival's summer season kicks off on Friday, August 16 and runs through Saturday, August 24th. Programs are consistently innovative, spanning music from the Renaissance to the present.
Highlights of the 2013 season include an evening of Handel and Purcell at the American Shakespeare Center's Blackfriars Playhouse; an evening of Baroque featuring period instruments and renowned vocalists; and the performance of avant-garde masterworks by George Crumb and Dadaist iconoclast John Cage.
Midweek, don't miss the Early Keyboard Extravaganza with eight period instruments - all on loan from private collections. This is a rare opportunity for anyone on the East Coast to hear so many historical keyboards assembled and performed by recognized masters at one occasion.
The festival welcomes dozens of talented and celebrated artists such as Vladimir Mendelssohn (viola and composer), Antti Tikkanen (violin), Andrew Willis (fortepiano), Minna Pensola (violin), Igor Begelman (clarinet), Sivan Magen (harp), and Carsten Schmidt (harpsichord.)
A brilliant young composer-in-residence, Zachary Wadsworth -- recently aired on NPR, BBC, and PRI -- will debut several new works commissioned specifically for the festival. Wadsworth is one of five composers in residence for the 2013 season.
Who: Acclaimed musicians from across Europe and the United States
What: Classical chamber music festival
When: August 16, 2013 - August 24, 2013
All performances take place at historic venues in beautiful downtown Staunton, Virginia - recently designated as one of the "best small towns in America" by Smithsonian magazine.
Each day at noon there will be a free concert, and each evening there will be a lecture followed by a ticketed evening performance. Season passes and tickets for the evening concerts are available online or by calling (800) 838-3006. The full festival schedule is available online.
About Staunton Music Festival
Now in its 16th year, the Staunton Music Festival entertains, enriches, and engages audiences with a dynamic selection of chamber music, performed by an exceptional group of international and American artists. Carsten Schmidt, the Artistic Director, enjoys a flourishing career with extensive performance and broadcast activities as a chamber musician and soloist with orchestras throughout Europe, North America, and Japan. He has been heard in such venues as Kennedy Center, Carnegie Hall, and the Moscow Conservatory, as well as in broadcasts worldwide.
###