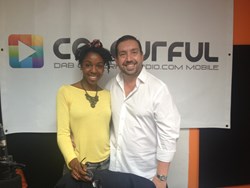 You are the person, you are your skills and you are going to add value to the next company.
London, UK (PRWEB UK) 12 August 2013
Steve Hutson, founder of innovative staffing company Superstars, returned to Colourful Radio this week to appear on Colourful Life with Jacqueline "Jaxx" Shepherd. This time, Jaxx and Steve were talking about redundancy - how to cope with it if it happens to you and how to see it as a stepping stone rather than a dead end. In the last 5 years, around 3.7 million people have experienced redundancy in the UK, according to Government figures.
A listener, "Marina", had written in response to last month's show about leaving your job to say that she had recently been made redundant after 15 years in a public sector role and was trying to make this a positive move and see it as an opportunity. Steve was encouraged by her positive attitude to what can be a tremendously difficult time.
"It's a very difficult situation. One of the most stressful things that can happen to you in your life is leaving a job," said Steve. "When a company lets you go for a financial reason it can start zapping your confidence and you can become very emotional. Handled properly, however, it can be very advantageous and help you move on to the next stage of your career."
Marina actually put herself forward for redundancy when she began to feel disenchanted with her role. As Steve explained, opting for Voluntary Redundancy can be a smart move, depending on your circumstances.
"When there are redundancies going in your company you can often put yourself forward and say 'I would like to be put forward for voluntary redundancy.' and sometimes - not always - that can turn out to be more financially rewarding."
If redundancy is imposed upon you, however, it is important that the correct procedure is applied.
"HR has to inform you that you are at risk of redundancy and give you a certain time limit, depending on how long you have been in the role. There is then a points system that your employer must use to assess how you will fit into the business," Steve told Jaxx. "Legally, the process must be followed and there is an organisation called ACAS (http://www.acas.org.uk) that can give you more information about how that process will apply to you."
If the correct process is not followed and employers do not recognise the stresses that redundancy can put their staff under, Steve explained, it can lead to situations like those described in this recent Metro article where staff were sacked via text message.
"That is completely out of order," said Steve, "Redundancy is a very personal thing and it is important to get the support you need. It's like finishing a relationship. Sending a text to finish a relationship is terrible; let alone doing so for someone's job.
"The first thing is to get support from your friends and colleagues and assess the situation. Look at the financials and your skills. It's ok to cry and be upset because you need to get through that process to find out where you are going to be in the future.
"Never forget - it's not about the reference, it's about you. You are the person, you are your skills and you are going to add value to the next company."
Steve Hutson will be back on Colourful Life next month. You can listen live via the Colourful Radio website or catch up with Steve's previous appearances on the Superstars YouTube channel.
Superstars is based on a unique new staffing model that eliminates fees and margins forever. Clients work with Talent Managers to get the best staff for their needs and the Talent get amazing opportunities and the best support and mentoring in the industry.
Superstars' clients include BSkyB, Orange, Infosys and Radical Company with more being added all the time.
To find out more about Superstars' unique staffing model and how it can transform the way you hire staff, contact Steve Hutson - steve(at)homeofsuperstars(dot)com or visit http://www.homeofsuperstars.com/.