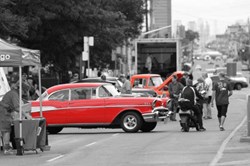 Toronto, ON (PRWEB) August 10, 2013
With a wide array of entertainment for kids and adults alike, the "Wheels on Danforth & Fun in the Park" festival promises fun for people of all ages. Kicking off at 11 am this Saturday, August 10th, the event features live music, food, craft vendors, and a beer garden – all the summer staples – to complement the Classic Car Show that will be taking over a closed-off section of Danforth at Danforth Ave. and Danforth Road from 11 til 5. The cars will be judged on 17 different categories, and turnout is always high, so expect to see quite a selection.
Meanwhile, the Kid's Zone in Oakridge Park features plenty to keep the little ones occupied while moms and dads check out the auto show, with a vendor's craft fair and a stage full of family-friendly entertainment.
At 5 pm, the big kids get a turn as the beer garden starts up and the music turns a little more groovy, with a Beach Boys tribute band, classic rock, and a full DJ show to close out the night at 11.
Of course, Wheels on the Danforth wouldn't be complete without the Tuner's Car Show for the European and Japanese enthusiasts. That kicks off at 6:30 and runs through nine different prize categories.
With major sponsors such as Swiss Chalet, Part Source, and Sleeman, the festival is shaping up to be the biggest it's ever been – with admission free, there's no reason not to be a part of it.
FS Local is a Canadian Web business directory based in Toronto, Ontario. The company provides Internet marketing, advertising and consulting services for small businesses, with focus on local social media web marketing solutions. Crossroads of the Danforth BIA works with FS Local to support local Toronto businesses in the community.