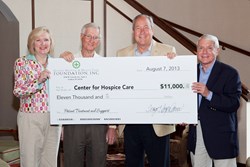 Mishawka, IN (PRWEB) August 14, 2013
The sad, difficult reality is that children are sometimes in need of relief from the symptoms that a life-limiting illness can bring. Palliative care can improve the quality of living for whatever time a child may have remaining. Unfortunately, not all families can afford this type of treatment. Center for Hospice Care (CHC) provides comprehensive physical, emotional and spiritual support for anyone eligible for their services, including children facing life-limiting illnesses, regardless of their ability to pay.
To support pediatric patients in Elkhart County, Goshen Hospital and Health Care Foundation recently awarded a grant in the amount of $11,000 from the HOPE Project fund and 2013 Gala proceeds to provide palliative care services through Center for Hospice Care.
The mission of Goshen Hospital & Health Care Foundation is to assist and support the healthcare needs of the men, women and children living in our communities. Lynette Mischel, Executive Director, notes the Foundation's mission, as measured against need, is more relevant and urgent than ever as poverty is still on the rise in Elkhart County, even with the economy improving. This negatively impacts healthcare choices for those with limited incomes.
For 33 years, Center for Hospice Care has provided compassionated, skilled hospice and palliative care to anyone eligible for its services, regardless of their ability to pay. CHC serves an eight-county region in Northern Indiana, including Elkhart County. The organization is headquartered in South Bend, IN and has offices in Elkhart, Mishawaka and Plymouth as well as two Hospice Houses.