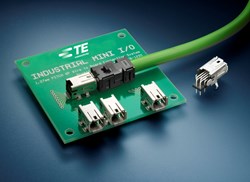 (PRWEB UK) 12 August 2013
TE Connectivity (TE), one of the world's market leaders in connectivity solutions, today announced the release of the Industrial Mini I/O connectivity system—a small, compact, latching, wire-to-board I/O interface that allows for safe high-speed connections at all angles.
Designed with two points of contact to enable reliable connections, this connector is built for industrial and high vibration environments, allowing for increased reliability compared to other I/O alternatives. The compact latching feature provides a high retention rate force of up to 98N which protects the plug from accidental pull and un-mating—reducing downtime, unstable connections and unnecessary consequential losses. Saving up to 75 percent of space compared to conventional RJ45 plugs, the Industrial Mini I/O connectivity system provides engineers with greater design flexibility on the PCB and ultimately gives engineers the freedom to decrease the size of their overall applications. With these benefits, the Industrial Mini I/O is well equipped to lead Industry 4.0 trends towards miniaturization and intelligent production.
The connectivity system is available in two polarized versions to prevent mis-mating. The four most common applications for TE's Industrial Mini I/O connectivity system are industrial communications; motion and drives; PLCs; and robotics—or anywhere design engineers need to increase PCB space by 75 percent.
For more product information, please contact your local TE Product Information Center or visit http://www.te.com/products/mini-io/.
About TE Connectivity
TE Connectivity is a $13 billion world leader in connectivity. The company designs and manufactures products at the heart of electronic connections for the world's leading industries including automotive, energy and industrial, broadband communications, consumer devices, healthcare, and aerospace and defense. TE Connectivity's long-standing commitment to innovation and engineering excellence helps its customers solve the need for more energy efficiency, always-on communications and ever-increasing productivity. With nearly 90,000 employees in over 50 countries, TE Connectivity makes connections the world relies on to work flawlessly every day. To connect with the company, visit: http://www.TE.com.
TE Connectivity and TE connectivity (logo) are trademarks. Other logos, product and/or company names might be trademarks of their respective owners.