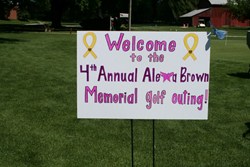 Toledo, OH (PRWEB) August 09, 2013
The Charles E. Boyk Law Offices, LLC continues to show their support for the families involved in the Clyde Cancer Cluster through their participation in the 4th Annual Alexa Brown Golf Outing.
The golf outing took place on Sunday, August 4th at Sleepy Hollow Golf Course in Clyde. The goal of the outing was to raise awareness for childhood cancer which affects numerous families in the Clyde, Ohio area. The outing is a chance to raise funds for an ongoing scholarship that will be offered to one of Alexa's class graduates from high school in 2016.
"We are very happy to have been involved in this year's golf outing. We will never stop showing out support to the families of the Clyde Cancer Cluster and we are pleased to have the opportunity to raise awareness of childhood cancer in the area," said Attorney Charles Boyk.
For more information on the Clyde Cancer Cluster, visit cancerclusterclyde.com.