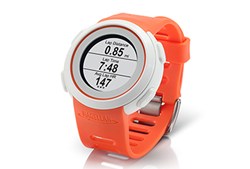 Magellan will be using the Wahoo Fitness API which will give the flexibility of using over 100 fitness apps including Map My Run, Strava, Runtastic and more
Bozeman, MT (PRWEB) August 11, 2013
Magellan Echo heart rate monitor will be tested by the Heart Rate Watch Company and chief tester John Yarington in advance of its October release.
"We are excited to have the Echo in advance so we can rigorously test it and the API that Wahoo will be developing for it", says Rusty Squire, President of the Heart Rate Watch Company. He adds, "It sounds like the API will be very robust and allow for a lot of customization of data fields".
HOW IT WORKS
The Magellan Echo is a Bluetooth Smart compatible wrist unit that allows users to control their workout, music and more directly from the wrist unit. "If you use a waist belt to carry your iPhone in it is really the ideal set up, as opposed to an armband, especially for running", says Squire.
"Magellan will be using the Wahoo Fitness API which will give the flexibility of using over 100 fitness apps including Map My Run, Strava, Runtastic and more", says Squire.
The watch will further integrate with other Bluetooth Smart accessories like the Polar Bluetooth Smart Stride Sensor.
POWER SOURCE
The Magellan Echo uses standard lithium coin cell batteries since the Smartphone does all the processing, therefore the watch acts as a display unit meaning the batteries can last for months as opposed to hours.
"We are excited to have John Yarington really work this unit over, along with the new Wearit advanced sports watch which we should be testing at the same time", says Squire. He adds, "The two units are quite different as the Wearit has a motherboard and built-in Wifi capability but in essence both watches will be capable of using dozens of different apps, which is what the Suunto Ambit 2 does", says Squire.
"It is interesting because there a lot of different companies taking very different approaches from Magellan to Suunto to Wearit", says Squire. He adds, "It'll be interesting to see who comes up with the best open source standards but for now we are excited to be testing the Magellan Echo".
"Results of our testing should be published sometime in September", says Squire.