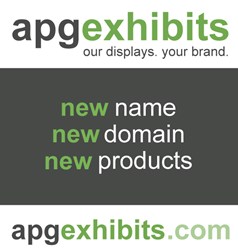 APG Exhibits offers more than just trade show displays.
Garyslake, IL (PRWEB) August 12, 2013
APG Tradeshow Displays is changing its name to APG Exhibits along with a new web address, apgexhibits.com. The new web address is easier to remember and faster to type.
"APG offers much more than just trade show displays," said President Matt Baron. "We offer a wide range of exhibits and display, such as outdoor event displays, completely custom exhibits, retail displays, and more. APG Exhibits better explains who we are and what we do. Plus, we always like to make our customers life's easier."
Very few changes will be made to the website under the new web address. "The only changes customers will see are the new products and additional Tips and Advice sections," Baron said. APG Exhibits is adding 20 new products to the website and new sections in Tips and Advice for new customers and first-time exhibitors.
The new products on the APG Exhibit's website include Waveline Display Kits, OneFabric 3 Piece Kits, and lower priced outdoor event tents. APG's new Waveline Display kits now come in several sizes from eight feet to 20 feet. Each kit comes with a lighting set and a case-to-counter with optional counter graphics.
The 20 foot OneFrabric 3 Piece Kits are a new creation from APG Exhibits. These kits feature three separate back wall pieces that work together for a 20 foot display. Each kit comes with two case-to-counters with optional graphics and lighting. The website describes the benefit of using this three piece display below.
"Layering three different back wall displays in one trade show exhibit creates a unique sense of depth to the design."
Each back wall piece in the OneFabric 3 Piece Kits can be used together or separately. These displays help exhibitors purchase one display that fits in any trade show space.
APG Exhibits recently updated their tent collection, allowing the company to lower their prices. Customers can now save up to $219 on an outdoor event tent.
APG Exhibits is a premier online provider of trade show displays, outdoor exhibits, feather flags, pop up tents, custom banners and more. APG Exhibits' mission is to provide high-quality trade show display products and outstanding customer service at the guaranteed lowest prices. Contact Customer Support at 866-752-2192 or visit apgexhibits.com for more information.