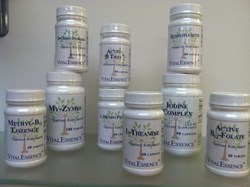 Prolonged stress is one of the key triggers in the development of any autoimmune disease. Clinical studies have shown that L-Theanine reduces stress.
Orland Park, Illinois (PRWEB) August 13, 2013
"L-Theanine is an amino acid contained in green tea leaves which is known to block the binding of L-glutamic acid to glutamate receptors in the brain," began Barbara Griffin, NMD, CNC, Certified Gluten Practitioner, and owner of Vital Health, Inc."
Dr. Griffin added, "Prolonged stress is one of the key triggers in the development of any autoimmune disease. The long-term activation of the stress-response system — and the subsequent overexposure to cortisol and other stress hormones — can disrupt almost all of the body's processes. This puts you at increased risk of numerous health problems."
Clinical studies have demonstrated that L-Theanine reduces stress, improves quality of sleep, and heightens mental acuity. These clinical effects are directly related to L-Theanine's ability to stimulate the production of alpha brain waves, as well as reduced beta waves. When taken on an empty stomach the effects are felt within the first 30 minutes and have been shown to last 8 to 12 hours.
Dr. Griffin Shares the Benefits of L-Theanine:
Reduce The Harmful Affects Of Stress
L-Theanine characteristics suggest that it can influence psychological and physiological states under stress. Studies performed on L-Theanine demonstrated that when taking L-Theanine, a reduction in the heart rate resulted and salivary immunoglobulin A (s-IgA) responses to an acute stress task relative. Studies on L-Theanine also demonstrated that it helps the body respond to stress since L-Theanine helps to activate the sympathetic nervous system. (1)
Relaxation, rejuvenation, focus
L-Theanine's effect on the brain can be visualized on an EEG. Brain waves are actually smoothed out—but not flattened out—by supplemental L-Theanine. The body is relaxed, the mind is calmed, but no drowsiness occurs. Falling asleep is one thing; staying asleep and getting quality sleep is another. Researchers in Japan gave volunteers 200 mg of L-Theanine daily and recorded their sleep patterns on devices worn around their wrists. The L-Theanine didn't cause the subjects to sleep longer, but it did cause them to sleep better. It was documented that sleep quality, recovery from exhaustion, and refreshed feelings were all enhanced by L-Theanine. Those taking L-Theanine felt like they slept longer than they actually did. This is good news for people who don't get enough sleep, or those who want to sleep less and do more. (2)
Enhance Mood
L-Theanine can cross the blood-brain barrier and positively affect brain chemistry. Scientists have investigated its mood-modulating effects. The results of those studies have led to L-Theanine being patented as a mood enhancer. How it works is not completely understood, but researchers have discovered that L-Theanine changes levels of amino acids affecting serotonin and other neurotransmitters in the brain.
Enhance memory, by reducing effects of stress
Memory impairment is frequently associated with old age or Alzheimer's disease, but there are other causes. Stress and depression, for example, cause memory loss. Although usually thought of as mere psychological states, stress and depression cause physical changes in body chemistry. The brain is notably affected.
Stress hormones known as glucocorticoids are activated by both stress and depression. In turn, they cause imbalances in brain chemistry that interfere with mood and memory. Counteracting glucocorticoids is extremely important. L-Theanine also suppresses glucocorticoids, and it is one of the few dietary supplements that cross the blood-brain barrier. (2)
L-Theanine's connection to the suppression of glucocorticoids is through glutamate. Researchers have discovered that this natural component of brain chemistry, which is not traditionally associated with depression, in fact plays a major role. In people who are depressed, glutamate levels are out of balance.
Dr. Griffin recommends talking to your physician before introducing any new supplement.
About Vital Health, Inc.:
At Vital Health, Inc. Dr. Griffin integrates a whole body approach with the intention of facilitating wellbeing and optimal health amongst her clients. Dr. Griffin's specialties include: traditional naturopathy, nutrition, EAV Meridian Stress Assessment, Food Sensitivity Screening, Environmental Screenings, Iridology, SKASYS, Live Blood Cell Analysis as well as established integrative therapies such as Neuroemotional Therapy, Neuromodulation Technique, Cold Laser and clinician for Spectracell Laboratories, Inc. Vital Health, Inc. 9031 W. 151st Street, Suite 210, Orland Park, IL 60462, (708) 226-1131, http://www.vitalhealth.org.
Sources: