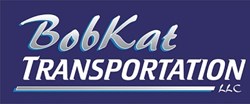 Reid Johnson
a month ago-
I needed a ride to Logan last minute and Bob was at my door in under 30 minutes. Very clean and comfortable van and got me to my flight in plenty of time. Highly recommend.
Portsmouth, New Hampshire (PRWEB) August 30, 2013
Taxi Service Portsmouth NH, Manchester Airport Taxi Services by author and creator Robert Gaskill Business Owner/Operator of BobKat Transportation LLC provides taxi, livery transportation, and courier services available on call or by appointment 24/7 in Portsmouth NH, servicing the entire seacoast area including airports. Having these three services it gives the city a new business uniquely able to provide customers with many options found in one place. It makes our customers feel great they can have all three available when needed. Up scale service at fair prices saves money and time which is so important in today's fast paced lifestyle.
Hoping to gain customers and be more socially active with them, BobKat Transportation LLC is holding a Facebook LIKE $25.00 sweepstakes! Every week one lucky participant will receive a $25.00 Walmart gift card! Follow BobKat Transportation LLC Facebook LIKE $25.00-Sweepstakes.
BobKat Transportation LLC is also excited to announce our "Any 3 Airports Same Price Deal One Flat Rate $129.00 One Way Fee," with tolls and gratuity included starting Friday August 30, 2013 for the big Labor Day Weekend/Back to school travelers and it will run through the end of September to all three major airports. Appointments accepted and suggested.
For airport information follow Airport Taxi Portsmouth NH, Manchester Airport Taxi Services BobKat Transportation LLC provides airport transportation to and from Manchester Airport, Manchester NH, Logan Airport, Boston MA, and Jetport Airport, Portland ME.
We accept all major credit cards. Open 24/7. For immediate service, get an estimate, or book an appointment call us at +1 (603)205-1788.
For extra details and information about BobKat Transportation LLC check out BobKat's infographic piktochart Thank you and BobKat Transportation LLC looks forward to serving your transportation and courier needs.