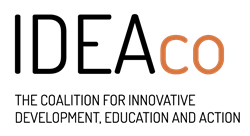 This project brings tools for social change to kids at a very young age and allows them to discover the opportunities and technologies available to them to make, dream, collaborate and, ultimately, change the world. -Brett Schilke, IDEAco
Appleton, WI (PRWEB) August 14, 2013
A new education and development nonprofit has launched in Appleton, Wis., and already is expanding its reach around the world. The Coalition for Innovative Development, Education and Action (IDEAco) seeks to empower new ways of learning and building community through educational programs, workshops, and experiences that encourage people to find creative solutions to our society's key challenges and opportunities.
A major facet of IDEAco programming is workshops and experiences that allow participants to discover processes, tools, and resources that help them create solutions to make a positive impact in their communities and lives. IDEAco utilizes social design thinking principles to encourage new ways of addressing challenges in education and community development.
IDEAco recently completed a pilot program in partnership with Singularity University (SU) in Mountain View, Calif. The "Exponential Youth Camp" program brought existing SU programming to high school students through immersive presentations by influential thought leaders from around the world. Students learned to identify the opportunities and challenges presented by rapidly advancing technologies and to find revolutionary new ways to apply them to impact the lives of others.
IDEAco also will soon be receiving delegations from Moldova and Russia through the Open World Leadership Center. These teams of young professionals will travel to Appleton to take part in week-long programs that help participants design creative solutions to problems their communities face regarding youth empowerment and the development of young entrepreneurs.
"It's difficult to put an exact label on what IDEAco is," said Brett Schilke, the 'chief instigator' of IDEAco. "Unlike many nonprofits, we're not in the business of one specific solution. We're out to provide resources and opportunities that inspire and empower people to create their own solutions, to learn and connect in new ways and have a positive impact on our future."
In addition to workshops and experiences that provide participants with resources and tools for social good, IDEAco is currently operating two "flagship" education and community initiatives. These initiatives are designed to be demonstrations of what the organization's methods can create, and also are "laboratories" that continually test, improve, and expand upon the concepts central to IDEAco's work.
The two current flagship initiatives are:
CITY X PROJECT
City X is an internationally focused STEM (science, technology, engineering, and math) initiative that brings 3D printing and design thinking into elementary school classrooms. Using these tools, the project teaches creativity and literacy using a story-based curriculum that encourages children to use their imaginations to bring life to their vision of the future. Eight to ten-year-old students design and create 3D-printable "inventions" that solve problems of real-world issues such as pollution, transportation, water and sanitation, and health. Using 3D printers, kids are able to instantly share and communicate their ideas with peers around the world.
"This project brings tools for social change to kids at a very young age and allows them to discover the opportunities and technologies available to them to make, dream, collaborate and, ultimately, change the world," Schilke said.
The City X Project recently completed its first international workshop in Beirut, Lebanon, thanks to collaboration with the MENA Design Research Center and Beirut Design Week. The project will continue to travel throughout 2013, with the goal of visiting communities on all six populated continents.
The City X Project is sponsored by the global 3D-printing company 3D Systems and recently received a grant from The Willis Foundation. The City X Project team also has partnered with Made in Space (MIS), a company that is bringing 3D printing to the International Space Station. MIS plans to 3D-print one lucky kid's City X invention aboard the International Space Station.
AVENUE HQ
IDEAco's flagship community development project for 2013, in partnership with Willems Marketing in Appleton, is converting an old office space into the area's first innovation and coworking space. The Avenue HQ aspires to provide a collaborative professional setting for freelancers, startups, small organizations, and location-independent professionals, and also will be a regional hub for creative culture development.
"Northeast Wisconsin is not lacking in innovators, disruptors, and entrepreneurial-minded professionals," said Avenue HQ Community Manager and Co-Founder Matthew Straub. "But the region is lacking in resources for those people. With this space, we hope to help build a strong entrepreneurial community and the resources to encourage its growth."
"It's about more than just workspace, too." said Schilke. "We are creating a place where people can collaborate, engage, and learn together. We want to foster the talent and energy in our community and help to inspire new possibilities." The Avenue HQ shares an address with the Appleton Makerspace and a high school mentorship program operated by Willems Marketing, and is part of an overall vision for the building to be a place for learning, creating, and sharing.
IDEAco (The Coalition for Innovative Development, Education and Action, Inc.)
IDEAco is an education and development focused nonprofit organization. We work to create and inspire new ways of learning and new ways of building community through educational programs, workshops, and experiences that encourage people to find creative solutions to our society's key challenges and opportunities.
-30-