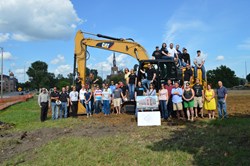 Cedar Rapids, IA (PRWEB) August 13, 2013
On Thursday, August 8, 2013 at 4:15pm, the development team along with employees, friends and family all gathered together on a field of fresh dirt (amidst bulldozers rolling by and dump trucks dumping piles and piles of dirt) to celebrate the beginning of construction for the Geonetric Headquarters in the NewBo neighborhood, downtown Cedar Rapids. The 4:15 start time was set to signify the new address of the building at 415 12th Avenue.
Anne Ohrt (Geonetric) welcomed everyone and introduced the development team of Joe Ahmann (owner-Ahmann Design), Geoff Franzenburg (Construction Manager-Compass Commercial Services), Wade Squiers (Chief Architect-Fusion Architects) and Jake Hayden (Site Manager-Compass Commercial Services). Geoff Franzenburg went over the plan for the building and extensive amenities that will be included in the new office headquarters as part of the presentation.
Geonetric employees had the opportunity to drive a bulldozer on the site, contributing to the dirt-moving efforts! The group then quickly moved over to a nearby restaurant for drinks, appetizers and further celebration of this momentous occasion.
Compass has now also received the City Permit for the building construction and construction is fully underway. This means with all formalities out of the way, things will move very quickly once the site is leveled and prepared for its foundation. Everyone is anticipating Geonetric's relocation to their new headquarters in approximately one year.
About Compass Commercial Services
Compass Commercial Services is a full-service contracting and construction management firm in the Cedar Rapids area specializing in a wide range of commercial construction projects including interior and exterior renovations, remodeling, building additions and the complete construction of new buildings. As a TRUE design-build firm, Compass is poised to complete projects from the ground up. From the initial design through the entire building process, customers have the advantage of working directly with one company, and a team that is structured to deliver final projects on time, and on budget.