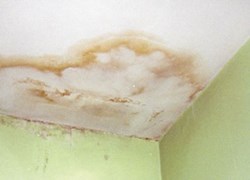 We were left in that damp for 18 months and in that time my daughter Ashleigh-May has been diagnosed with asthma.
Bolton, UK (PRWEB UK) 16 August 2013
Lisa-Marie Bevan and her children moved into their Council Home in Coldwell Lane, King's Stanley, in October 2009. Almost two years later, in August 2011, Miss Bevan discovered damp in the ceiling, stemming from a leak in her properties roof. Despite this, it was not until May this year that Stroud District Council fixed the damage. (1)
It is believed that, upon moving, she was told by the local authority that there was asbestos present in the ceiling. Miss Bevan, mother of a six-year-old daughter and a two-year-old son, stated:
"When I first moved into the property I was told by the council that there was some asbestos in the ceiling but unless it was damaged it was at a safe level.
"This obviously all changed when the ceiling in my hallway started to crumble away because of the damp." (1)
Fear rose over the potential for her family to be exposed to asbestos. Miss Bevan said:
"We were left in that damp for 18 months and in that time my daughter Ashleigh-May has been diagnosed with asthma and now needs to use and inhaler every day as well as needing steroid shots.
"I just cannot believe nothing was done sooner to fix the damage to my home." (1)
Questioned about the event, a spokesman for Stroud District Council said:
"Regrettably it did take us much longer than we would have liked to go out to fix Miss Bevan's roof and unfortunately when we did it wasn't straightforward.
"Our initial attempts to fix the holes in the roof were unsuccessful so we ended up replacing the entire roof covering.
"Miss Bevan was concerned about damage to the asbestos in the ceiling plaster following the water damage but we advised her that that there was no cause for concern as the textured ceiling coating is classed as very low risk. This type of textured finish is commonplace in tens of thousands of homes across the country." (1)
Commenting on the news, Suzanne Yates, Executive at Asons Solicitors, made the following statement:
"Sadly, this is not the first time that we read about Stroud District Council's bad timing when it comes to asbestos removal from Council Estates.(2)
Miss Bevan's concerns are completely understandable. It is alleged that she had to wait 18 months for the local authority to fully repair the damage. This is unacceptable, particularly when taking into account the risk of asbestos exposure. Awareness needs to be raised, drawing attention to circumstances where the taxpayers' health is threatened by the negligence of local authorities."
"At Asons we deal with asbestos claims on a regular basis. If an individual has been exposed to asbestos and developed a related disease, then they can potentially make a claim for asbestos compensation."
Asons Solicitors have a dedicated team of industrial disease specialists, dealing with cases of asbestos related diseases, giving people legal advice, particularly in the area of mesothelioma claims and asbestosis claims. Exposure to asbestos can be deadly, and Asons urge anyone who feels they may have been exposed to asbestos fibres to consult their GP immediately for a consultation, and contact an industrial disease specialist for legal representation. To find out more information on asbestos claims and mesothelioma compensation, contact Asons at http://www.asons.co.uk or phone 01204 521 133.
(1) Gazette Series, 8th August 2013 - gazetteseries.co.uk/news/10594922.Mum_of_two_s_asbestos_fear/
(2) Gazette Series, 25th July 2013 - gazetteseries.co.uk/news/10569549.Asbestos_contaminates_couple_s_clothes_after_four_month_stay_in_Berkeley_house/
ENDS
About Asons Solicitors:
Asons Solicitors is a Bolton-based law practice that specialises in personal injury and industrial disease claims. Founded by brothers Imran Akram and Kamran Akram, Asons Solicitors has developed to become a young and dynamic law firm that delivers practical solutions to clients in times of difficulty. Their continued focus on their staff has seen them awarded with the Investors in People "Gold Award"; which is reflected in the professional and personable approach they take in working with clients. They strive to grow and to develop, and their supportiveness and attention to detail ensures that their clients use them time and again.
For further information contact:
Email: info(at)asons(dot)co.uk
Website: http://www.asons.co.uk