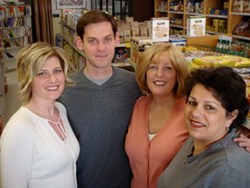 When vitamins are taken consistently, parents will notice that their children are more on-task and healthier overall.
Orland Park, Illinois (PRWEB) August 10, 2013
"Most children would consider a new backpack filled with new school supplies as the ideal way to start off a new school year," began Diana Sourek, MS, CNC, Certified Gluten Practitioner and manager of New Vitality Health Foods, Inc. "Parents should look at introducing several essential supplements and vitamins in order to get their child started on a solid foundation this school year. When taken consistently, parents will notice that their children are more on-task and healthier overall".
Ms. Sourek recommends the following supplements that can increase brain function, memory, and concentration in children and teens:
1. Phosphatidylserine
Phosphatidylserine is a component usually derived from Lecithin. This supplement has been shown to enhance cognitive function by aiding neurotransmitters to fire correctly. It helps to boost overall brain function and has been reported to enhance short-term memory and retain information before test taking.
2. DHA
DHA is derived from fish oil. DHA helps by stimulating the neurotransmitters in the brain so they fire and meet correctly, hence improving memory and cognitive function. DHA can be found in an Omega 3 supplement or Cod Liver Oil. You can find DHA in a higher concentration by itself; aim for 125-300 mg DHA daily. Omega 3 fatty acids are absolutely crucial for brain function and development. The body cannot produce enough Omega 3 on its own; therefore introducing a supplement is critical. Scientific studies on the benefits of Omega 3 fish oil supplements for children have proven its effectiveness in helping children with concentration, impulse control, depression and hostility. For children with ADD/ADHD, supplementation is even more important, as research has found that those children are often severely deficient in Omega 3s. New Vitality Health Foods, Inc. offers a several effective to help children increase focus.
3. L-Theanine is an amino acid found in Green Tea that can be used to calm the mind. Many times we have too many things running through our minds, this can cause us to feel flighty and not able to concentrate on one thing. L-Theanine can help children focus before a new or exciting event, and can help them remain calm or reduce anxiety when taking tests.
4. Flower Essence formulas are available to address the different personality types and particular situational stresses such as the Bach Flower Essences for confidence and one for daydreaming.
Ms. Sourek remarked, "It is important for parents to supplement their child's diet with certain minerals and vitamins if they are classified as failure to thrive; have certain chronic diseases, such as asthma; have food allergies; or are extremely active children who play physically demanding sports.
Ms. Sourek recommends these vitamins for children:

Vitamin A promotes normal growth and development; tissue and bone repair; and healthy skin, eyes, and immune responses.
Vitamin Bs -- B2, B3, B6, and B12 -- aid metabolism, energy production, and healthy circulatory and nervous systems.
Vitamin C promotes healthy muscles, connective tissue, and skin.
Vitamin D promotes bone and tooth formation, helps the body absorb calcium, helps mood and depression and supports a healthy immune system.
Calcium helps build strong bones as a child grows.
"Starting your child's day off with a healthy breakfast is important when trying to improve focus at school," remarked Ms. Sourek. "A good breakfast should consist of mostly protein. Protein is fuel for your brain and muscles. If you start your child's day off with cereal or pancakes and juice, they will start to crash physically and mentally about one hour into school, this makes them unable to focus and perhaps display some ADD like behavior"
Protein will have the calories to last them through lunch. Eggs are an excellent source of protein and are 97% digestible, making them easy a child's stomach. Other key sources of protein are beef, poultry, fish, dairy products, nuts, seeds and legumes. Reduce sugar intake and balancing fruits and vegetables are important in helping children eat healthy.
About New Vitality Health Foods, Inc.:
Established in 1988, New Vitality Health Foods, Inc. provides Chicagolands' largest selection of allergy-free foods that have met their high standards for taste, quality, and nutrition. New allergy-free foods are introduced weekly. They also carry frozen foods, vitamins, herbs, homeopathic, aromatherapy, body care, pet care, household items and much more. New Vitality features only the highest quality, effective nutritional supplements to support their customers' total health. New Vitality Health Foods, Inc. is located at 9177 West 151st Street, Orland Park, Il 60462 (708) 403-0120 http://www.newvitalityhealthfoods.com .