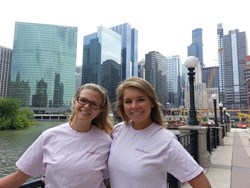 'The preparation and submission of a resume demonstrates the caregiver's passion and most importantly, qualifications for that position.' - Lauren Badonski
Chicago, IL (PRWEB) August 31, 2013
The senior care industry hires new applicants daily and will continue to exponentially over the next ten years. Since 2008, senior home care agencies have increased by 40% and they need to hire more senior caregivers to balance the inflow of seniors. After a caregiver applies for a job on Caregiverlist, senior home care agencies look out for specific qualifications and unique experiences, items which a quality resume will highlight and present in a professional format.
"The preparation and submission of a resume demonstrates the caregiver's passion and most importantly, qualifications for that position," notes Director of Staffing at Home and Hearth Caregivers, Lauren Badonski, "at first glance, a strong resume could make all the difference in getting the 'in-person' interview." As jobs open up in senior care, the need for caregivers increases. However, many senior caregivers have been applying without a resume attached to their job application which may hinder their chances of getting a call for a job.
Caregiverlist offers a free "Build Your Own Caregiver Resume" tool on their website. Caregivers just need to enter in their information into the form fields. The Caregiverlist tool will piece together a resume to use immediately. This resume can be saved on the computer for future use. Fields include:
● Contact Information
● Objective
● Experience
● Certifications
● Work History
● Education
● References
"Caregivers should use the free resume builder on our website because it organizes information in a professional, yet simple manner," mentions Vera Perekoteyeva, Recruitment Specialist at Caregiverlist, "Only the most important information needed for the employer's hiring professional caregivers is asked." Caregiverlist designed this resume tool exclusively for caregivers and Certified Nursing Assistants. Ms. Perekoteyeva believes using the Caregiverlist "Build Your Own Caregiver Resume" tool will help caregivers and C.N.A.'s get hired more quickly and advises that it provides a quick way to produce a quality caregiver resume.
Caregivers with the motivation to write up their own resume can refer to the "How-to-Write a Caregiver Resume" page of the Caregiverlist Career Center. The tips provided guide caregivers to crafting their own personalized resume.
Caregiver Resume Tips include:
● Be Honest
● Follow Chronological Order
● Provide an Objective
● Include Three References
● Proof Read Final Version
Senior care jobs are offered within hospices, senior home care agencies, home health care agencies, hospitals and assisted living communities. Staffing directors in these communities seek individuals with a consistent employment history. Senior caregiving requires individuals to be reliable, which a fluid job history on a resume will demonstrate. However, sometimes people do have gaps between jobs who are excellent workers. As stated in "How-to-Write a Caregiver Resume," be honest. Communicating to a potential employer reasons for gaps in an employment history in the resume will show honesty and trustworthiness.
"Content is key - detail-oriented skill descriptions performed for previous clients and employers can make all the difference in the world," says Lauren Badonski. Caregivers with a resume will surely stand out next to the other applicants that senior home care agency staff needs to sift through. Those likely to get hired prove to be caregivers who can showcase their skills through a professional caregiver resume.
About Caregiverlist
Caregiverlist.com is the nation's online destination dedicated to connecting seniors with quality senior care choices. Caregiverlist.com helps seniors and their loved ones define care needs, understand the many caregiving options and costs and connect to senior home care agencies that meet Caregiverlist.com's checklist of quality standards. Caregiverlist.com is also a leading caregiving career and recruitment resource. Visit http://www.Caregiverlist.com.