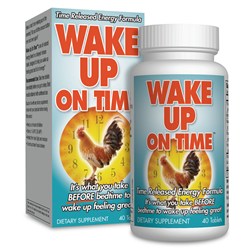 Sparta, NJ (PRWEB) August 09, 2013
After Al Roker slept through his segment on Good Morning America Tuesday morning,
the creators of "Wake Up On Time" are looking to offer Al Roker a spokesperson position.
Al Roker oversleeps, misses his part on The Today Show for the first time in 39 years. Earning the name, Rip Van Roker, "Wake Up On Time" is interested in getting Roker to discuss a spokesperson position. Cathy Beggan, founder and inventor of the product, says: "This is a great opportunity for us to have the perfect product spokesperson -- if anybody needs 'Wake Up On Time', it's Al Roker. Sleeping through his morning show could have been prevented with a little help from our all natural product."
"Wake Up On Time" is the only product of its kind, taken BEFORE BED, it works as an alarm clock in a pill to help drowsy customers wake up feeling alert, refreshed and full of energy. This "delayed release" natural energy pill has a special coating over the tablets to delay the initial release of the ingredients. This is why it can be taken BEFORE BED without it disturbing sleep. Wake Up On Time guarantees it can help anyone become a "Morning Person" overnight. The packaging lists the following side effects: Happy mornings, singing in the shower and getting to work on time!
"Wake Up On Time" was developed by Cathy Beggan, a mother of three and long-time proponent of natural remedies. For many years Cathy struggled with getting out of bed in the morning. As she listened to stories from friends and family members, she learned that waking up in the morning was a big problem for many people and set out to find an "all-natural" and effective solution. Cathy searched for a remedy that would help people feel refreshed and energetic as soon as they opened their eyes in the morning.
"We would love to have Rip Van Roker as our spokesperson," says Beggan. "It would be a fun, creative and effective way to get the word out about our potentially job saving little pill."
# # #