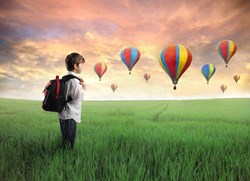 Parents can help to isolate feelings their children are experiencing by encouraging them to share their dreams.
Sterling, VA (PRWEB) August 13, 2013
The first day of school is right around the corner, and while back to school season is a parent's dream come true, it can also be a child's worst nightmare—literally. True to form, the first day of school does and can affect children in different ways. Dreams Cloud contributor and Licensed Professional Counselor Susan G. Baragia shares insight on a few common themes that may occur in a child's dream as the countdown to school returns.
From excitement to anticipation and optimism, the range of emotions children experience before going back to school is limitless, but common. Here are a few common themes and how to react to these emotions.
Nightmares – the theme of nightmares may be monsters, shadow figures, being lost, getting hurt, being separated from loved ones, threatened by wild animals, being trapped in small places, or being chased and hiding. These nightmares indicate a child is feeling fear and anxiety about entering an environment they feel is unpredictable and chaotic.
Teeth falling out – this is a common anxiety dream that indicates a child may fear they have no control over their ability to cope in an unfamiliar environment.
Humiliation/embarrassment – A child may dream he/she has forgotten homework, gives a wrong answer in class, shows up naked to school, has no shoes on, doesn't get picked for a team, has no one to sit with at lunch, can't open his/her locker, is being laughed out, bullied, or shunned by classmates. These dreams are revealing a child's fear of rejection by classmates and fear of not being able to perform or measure up at school.
Being Lost – Forgetting to go to class, not being able to find the classroom or not recognizing classmates or teachers are common as well. This type of dream is telling that a child is feeling anxiety and fear about not being able to navigate the new environment properly and living up to the school's and parent's expectations.
Happy Dream: Most dreams reflect negative emotional material, however, on occasion a child may have a happy dream. This type of dream may contain a scenario that everyone claps when he walks in the door, she's surrounded by classmates hugging her, rainbows appear in the sky, or perhaps she can even fly. This type of dream can reflect confidence and hopefulness, but also may be suggesting expectations that are unrealistic about her return to school.
Baragia strongly suggests parents should encourage their child to share his/her dreams so they can help isolate some of the feelings they are having which may not be easily identified in waking life. Questions such as:

How did you feel when the monster was chasing you?
Is there anything in waking life that you'd like to hide from?
When have you felt like that (fearful, scared, trapped ) in waking life?
If you could replay your dream reaction, what else could you have done?
If that happened in real life, who could you go to for help?
What is your worst fear in life right now?
What is your greatest hope starting school?
What can I do to help you start the school year in a positive way?
When children discuss their dreams and emotions about going back to school, parents can help them cope with these natural reactions. Parents and families can find out more information about children's dreams and peruse other resources at http://www.dreamscloud.com.
About Dreams Cloud
Dreams Cloud, a subsidiary of Dreams Book Inc. (DBI), is a global resource which specializes in gathering, saving, and tabulating a statistical compilation of dreams. The website provides its members with tools to log their dreams, create various dream journals, save them privately or share them publicly or anonymously, and receive reflections on their dreams. The goal of Dreams Cloud is to better its members' lives and those of the public through its efforts. To learn more about Dreams Cloud, please visit http://www.dreamscloud.com.