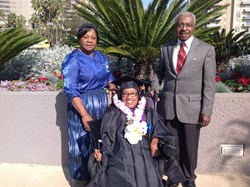 God made me according to his perfect wisdom and I want to show the world that I will not waste his workmanship complaining, but living in service, humbled by his awesome will.
Augusta, Georgia (PRWEB) August 12, 2013
Imagine being pregnant for the seventh time with the gut feeling that something's different, yet prenatal checkups are revealing the complete opposite. This dichotomy became Althea's mother reality. Although, she was not privy to fancy tests like amniocentesis and 3D ultrasounds, she knew her premonitions were real. Throughout the course of her pregnancy, her husband was renovating their home. Solely relying upon intuition, she asked him to widened the doorways, and make the bathrooms more spacious. On April 16, 1977, her bundle of joy arrived custom packaged with unique hands and feet. Panicked by her physical presentation, the medical staff whisked Althea away to do a full examination. Having no time to bond let alone count finger and toes, her mother knew what she had been feeling was no longer false. Her parents anxiously watched the chaos unfold. Machines started beeping, people started shouting and nurses were running with the looks of worry on their faces. Hours passed before the doctors came in to the deliver the bad news. The physician said, "I'm so sorry to inform you that your daughter is mentally retarded and will never be normal. " Being people of strong faith her parents accepted the news and asked to see their baby girl. Despite having tiny contorted hands, they fell in love the moment they laid eyes on her. Genetic testing later revealed the cause of her contracted limbs. Althea was diagnosed with a rare muscle bone disorder called arthrogyposis. The doctors said she would never meet her milestones and would always need special assistance. Before she left the hospital she began defying the odds. Althea started cooing and babbling, engaging her mom's voice and even bottle feeding.
Without guidelines to help them, her parents cared for her as they had their other children. Everything she accomplished was either self-taught or coached by her parents, as there was no therapist available to teach Althea how to hold a spoon, use the toilet, bathe or write her name. At her doctor's appointments, they would ask Mrs. Holmes to list her medications, only to find out, in astonishment; she was not on any. Althea has since gone on to graduate from high school, enter college and finish her Master's in behavioral counseling. She even spent several months studying abroad in London. After college, she secured a job, bought a house and has been living by herself for the last ten years. Currently, she volunteers time reading for the blind, mentoring kids, and babysitting her nieces and nephews. Despite being wheelchair bound she lives a much fulfilled life. She loves hosting dinners, shopping, reading, and spending time with her family and friends.
Althea makes a conscious effort daily to live life without limitations, yet her challenge is she is limited to the places she can go. She still relies on public transportation and others to get her around. It has been a long-term goal of hers, to one day own a vehicle. This story was written because she needs help bringing this dream into fruition. On last week she was evaluated for a conversion van. She was placed behind the wheel of a full-size van, taught how to use the controls and began driving for the first time in her life. Keep in mind, she had never ridden a bike; learned to rollerblade or tryout for her driver's license, so you can only imagine the flood of emotions that over swept her. After completing the evaluation, she was given the results with the price tag attached to it. Owning a vehicle will open so many doors for her. Please show support by donating to Althea's 5k that's being held on August 17, 2013 at Julian Smith Casino 220 Broad Street, Augusta, GA. God made her according to his perfect wisdom and she want to show the world that she will not waste his workmanship complaining, but living in service, humbled by his awesome will.