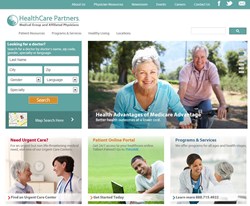 Defining, refining, narrowing the business requirements is the base for a successful digital marketing strategy
Laguna Beach, California (PRWEB) August 12, 2013
Headquartered in Torrance, California, HealthCare Partners, the country's largest operator of medical groups and physician networks, works with its patients to help them live life to the fullest and strives to lead the transformation of the national healthcare delivery system to ensure quality, accessible, and affordable care for all.
Transforming the national healthcare delivery system is a big commitment. And, new owner DaVita, the leader in setting worldwide standards for clinical, social, and operational practices in kidney care, knows what it takes to innovate healthcare delivery.
The Digital Strategy:
"The HealthCare Partners strategy initiative is a great example of applying a Digital Strategy Toolkit," remarks NetScope, Inc. President Michael Beresford. "Digital marketing investments, big or small, require extensive, legitimate research. We spent the first weeks of the project reviewing business goals for the new strategy: the target audience, key performance indicators, site search, email, and social networking integration needs. Defining, refining, narrowing the business requirements is the base for this project's success," adds Beresford. The cornerstone of the new strategy was rebuilding of the company website and deploying to regional web properties around the country.
Download the 2013 Digitial Insights playbook to help drive your digital strategy.
New Website Features:
The new HealthCare Partners website utilizes custom website development to increase patient access to key information.

Doctor Search Tool by specialty, gender and language spoken
Integrated featured doctor videos and Google Maps
Social Media integration
Social sharing capabilities with Facebook and Twitter
Urgent Care locator
Mobile
Simple, Powerful Platform – For the Patient
Arrive at the HealthCare Partners site and the first thing you'll find is a simple search tool. David Schreck, NetScope Director of Design, remembers, "HealthCare Partners is dedicated to improving health care delivery. A top priority was the doctor search tool."
The new website required a custom-built platform. Under the hood is a comprehensive content management engine that offers HealthCare Partners unprecedented control over their website. Self-administration modules include doctor information, urgent care center locations, homepage banners, and all pages on the site.
About NetScope, Inc.
Headquarted in Laguna Beach, California, NetScope, Inc. was founded in 1995 as most websites were still clinging to their static HTML roots. As new technologies have emerged, NetScope has continued to apply the appropriate mix of strategy and application development to help clients grow their businesses. Our most important awards are our Client Testimonials. Although our quality assurance, creative designs, information architecture, customized web programming and project management continue to garner awards, the real reward is our long list of satisfied clients.
Contact: Michael Beresford, President, NetScope, Inc.