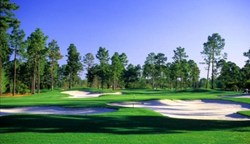 We have worked hard to make the new site very customer-friendly and place all the information golfers want right at their fingertips
Myrtle Beach, SC (PRWEB) August 12, 2013
MBN.com, the No. 1 website for booking Myrtle Beach golf packages and tee times, has unveiled a fresh, new look, complete with several features that make planning and booking a Myrtle Beach golf vacation easier and more convenient than ever before.
The most comprehensive, interactive Myrtle Beach golf website features the real-time available tee times on all area golf courses, giving golfers total power to make their ideal golf schedule. MBN.com is quick and easy for all golfers – from groups booking multiple-round packages to players booking single rounds. MBN.com is also a great place to find a wide variety of comfortable accommodations – with or without golf – at more than 20 lodging partners.
"Golfers will appreciate the ease with which they can now search and book their golf vacations on MBN.com," said National Golf Management vice president of sales and marketing Steve Mays. "We have worked hard to make the new site very customer-friendly and place all the information golfers want right at their fingertips."
At the top of the home page, a user-friendly menu provides easy access to full descriptions of all Myrtle Beach-area courses, complete information on special offers and seasonal golf packages, a free quick quote request form for a custom golf package, and a thorough list of lodging options.
The lower portion of the home page is devoted to more than 20,000 reviews of individual, Myrtle Beach-area courses, written for golfers by golfers at Myrtle Beach Golf Insider. MBN.com's Smart Price feature instantly provides the lowest available prices throughout the year at all Myrtle Beach-area courses.
MBN.com also provides news of interest to Myrtle Beach golfers, restaurant reviews and recommendations, contests for great prizes and the best deals on last-minute tee times.
About National Golf Management Company
The foremost golf course management company in the Southeast, National Golf Management was formed in 2012 by a merger of Myrtle Beach National Company and Burroughs & Chapin Golf Management. NGM oversees, through ownership and/or management, 22 Prime Times Signature golf courses in and around Myrtle Beach, S.C., one of the world's most popular golf destination markets.
NGM administrates MBN.com, a leader in online tee time booking, as well as package outlets Ambassador Golf and Myrtle Beach Golf Trips. With the help of Myrtle Beach Golf Insider's 100 percent player-generated course ranking system, thousands of golfers plan and assemble their ideal golf itineraries through NGM, including "top-100 caliber" courses Pawleys Plantation, Grande Dunes Resort, King's North and more than 80 other Myrtle Beach area courses.