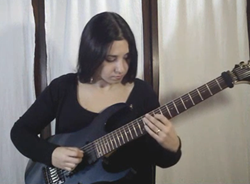 Alejandra first plays the licks at their proper speed, then slows them down for easier learning.
Los Angeles, CA (PRWEB) August 09, 2013
In the latest addition to its popular line of online lead guitar lessons, GuitarControl.com's seven-string siren Alejandra Mesliuk teaches players the first lead guitar solo from Dream Theater's "This is the Life." Well-known for her blazing, shred-style guitar work, the Argentinean string wizard here shows a more melodic side, with the slow, sustained notes of John Petrucci's original solo. The solo features held notes, arpeggios and natural vibrato. Alejandra first plays the licks at their proper speed, then slows them down for easier learning. There's a link to printable lead guitar tabs written both in music notation and tablature for easy reading. After learning the solo, players should try adding riffs of their own to develop their personal style.
Begun in 1985, Dream Theater is a progressive metal band from the U.S. known for its advanced technical, harmonic and rhythmic concepts. Its virtuoso lead guitarist John Petrucci has been named the third player on Joe Satriani's famed G3 tours six times, more than any other invited player. He was ranked second in John McIver's book The 100 Greatest Metal Guitarists and as one of the "Top 10 Fastest Shredders of All Time" by Guitar One magazine. The band's album Metropolis Pt. 2: Scenes from a Memory was number 95 on the October 2006 issue of Guitar World magazine's inventory of the greatest 100 guitar albums of all time. It was listed as the 15th greatest concept album by Classic Rock Magazine and as the number one all-time progressive album by Rolling Stone. On April 9, 2013, Images and Words won Loudwire 'magazine's fan voted world's best metal album, beating albums by Dio, AC/DC, Judas Priest, Megadeth and Metallica.
Hear more of Alejandra's masterful playing on recordings by the progressive metal band Inventio and on her own projects, which include full helpings of her sweeping, string-skipping and tapping expertise. Enjoy and learn more from Alejandra and all the teachers at Guitarcontrol.com in dozens of free lead guitar lessons at http://www.youtube.com/guitarcontrol.
GuitarControl.com, a leader in online music education, is the brainchild of Philadelphia guitarist Claude Johnson. Since 2004, the site has offered lessons taught by virtuoso in styles ranging from rock and blues to jazz and country to classical and fingerstyle acoustic, as well as many DVD courses, including Killer Guitar Control Secrets, How to Play Smokin' Blues Guitar and Killer Lead Guitar Made Simple.