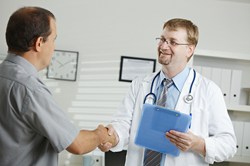 Properly managing a high volume of appointments across multiple facilities requires a highly scalable and robust system.
Scottsdale, AZ (PRWEB) August 09, 2013
Cloud technology continues to grow in usage within the healthcare industry, as evidenced by a survey conducted earlier this year by CDW that showed a 30 percent year-over-year increase.
Cloud-based software platforms and applications enable healthcare facilities to operate more efficiently by automating and streamlining specific tasks, such as patient appointments.
Scheduling patient appointments for vaccinations, flu shots and other services is oftentimes a painful process for wellness centers and healthcare facilities. This is especially true for larger organizations that schedule large numbers of appointments at multiple locations.
Automating the process with a cloud-based enterprise scheduling system enables these sites to operate more efficiently and productively.
"Properly managing a high volume of appointments across multiple facilities requires a highly scalable and robust system," said Stephen Booze, CIO of Appointment-Plus enterprise appointment scheduling software. "An enterprise scheduler can give healthcare and wellness centers the necessary tools to accomplish this."
Appointment-Plus, the world's leading online enterprise scheduling system, shares its top 10 reasons to implement enterprise software for scheduling and managing patient appointments:
1. It lets customers conveniently schedule their appointments 24/7 from their laptops,
smartphones and tablets.
2. It frees up valuable staff time and resources previously devoted to manually scheduling appointments.
3. It reduces the number of "no-shows" by automatically sending an e-mail or text message reminders prior to a scheduled appointment time.
4. It prevents over-bookings and double-bookings.
5. It allows staff to view their scheduled appointments from anywhere and at any time.
6. It lets you quickly access data and create reports.
7. It reduces errors and mistakes common in a manual scheduling process.
8. It integrates with existing applications and processes.
9. It's highly scalable to accommodate large numbers of employees, customers or clients, and appointments across multiple offices, departments and locations.
10. It lets you better manage staff schedules.
Learn how Appointment-Plus can improve your scheduling. Call 888-772-6746.
#
About: Appointment-Plus is a Scottsdale, Ariz.-based SaaS company and one of the 2013 CareerBuilder Top Companies to Work for in Arizona. They provide over 16 million people access to their online business management software, which specializes in appointment scheduling for customers, staff and resources.
For media and online journalists: Interested in interviewing our executives regarding future business-to-business online software technology or quotes for guest articles? Please email us at erichard(at)appointment-plus(dot)com.