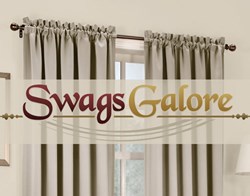 So we can increase our product selection, allowing our customers to have a larger selection of products to choose from.
Lakeville PA (PRWEB) August 11, 2013
Swags Galore online retailer of affordable curtains and window treatments announced plans to extend their distribution center and warehouse. The project is expected to be complete by the end of October 2013.
C & M Sales, Inc, leaders in the industry of pre engineered buildings, has been contracted to excavate and construct the new portion of warehouse for Swags Galore. C & M Sales are the exclusive contractor for Butler pre engineered buildings for the North East Pennsylvania region.
Speaking for Swags Galore, V.P. and Owner Eugene West states "With the growth of Swags Galore over the last year, our warehouse is bursting at the seams with new products. We've made large commitments with our suppliers and we've run out of warehouse space. Next month is market week for our industry and we're hoping to purchase hundreds of new styles to grow our inventory line. So the logical thing to do is add a large warehouse extension, so we can increase our product selection, allowing our customers to have a larger selection of products."
This is not the first time Swags Galore has added to their distribution center/warehouse. In 2010, they hired C&M sales to construct an extension onto their preexisting warehouse which has helped them to grow as quick as they have.
To learn more about their products, visit http://www.swagsgalore.com/.
About Swags Galore Inc.
Swags Galore was founded by Melinda and Eugene West of Shirley, New York in 1999. It was Melinda's vision to sell affordable window treatments online and in 1999, she designed and launched their first web site, originally selling scarf panels she made from home. In 2000, the business outgrew Melinda and Eugene's home and they expanded into a warehouse in Yaphank, New York, quickly out growing that. In 2005, Melinda and Eugene made the decision to move to Lakeville, Pennsylvania where they built their corporate headquarters and distribution center. Today, the company is the leader in their industry selling low cost window treatments to retail consumers.