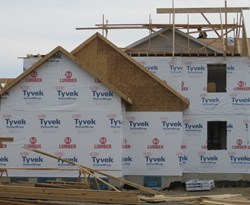 ...we feel this addition is both timely and necessary to fulfill our call to serve.
Allentown, PA (PRWEB) August 14, 2013
DR Vitamin Solutions, an Allentown-based vitamin and supplement e-commerce specialist, has begun construction on a 2,000 square foot addition to its existing office facility. The added space will allow the DR Vitamins team to more efficiently respond to a growing number of product orders. Much of the new space will be devoted to shipping processes while doubling as a space to store inventory.
"In our very personal quest to serve our clients to the best of our ability, we feel this addition is both timely and necessary to fulfill our call to serve," said founder David Benic. "We exist to provide our customers with the very best in nutrition, safety and overall health and wellbeing, and we feel this expansion is complementary to achieving this mission," Benic added.
DR Vitamin Solutions is an authorized Direct Wholesaler of Life Extension Supplements and other trusted vitamin and supplement brands such as Metagenics and Pure Encapsulations. With vast knowledge through careful research and experience, the DR Vitamins team not only offers a highly selective offering of professional products, but personal health and nutrition support tailored to the individual. Many customers come to the DR Vitamins team with questions about a safe and natural vitamin and supplemental regimen for various health concerns. David and his team at DR Vitamins provide a personal approach to business, and genuine care for its customers has created marked growth and a loyal customer base.
Since 2008, David Benic and DR Vitamins, LLC have been passionately devoted to equipping its customers with natural and healthy vitamin and supplement options while offering unparalleled customer service. Providing state-of-the-art supplements such as Zetpil Nutritional Suppositories and Drucker Labs intraMAX, DR Vitamins' wide-ranging and effective supplements can address just about any health concern. The family-oriented company lives by the mission statement "We are called to serve you, not money," and it's evident through its history and service.