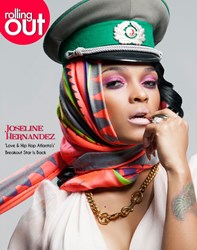 ...don't tell people everything.
Atlanta, GA (PRWEB) August 09, 2013
If you've been on this roller coaster ride called this spring and summer called "Love & Hip Hop Atlanta" then you understand why we would have been remiss to not feature the self-proclaimed "Puerto Rican Princess" Joseline Hernandez on our cover.
Joseline, or Ms. Hernandez if you're nasty (her words), is a Jill-of-all-trades. Best known for her exotic dancing background prior to her reality TV gig, Hernandez assures that there's much more to her sex kitten persona than meets the eye. "I don't tell people everything. I'm just little Joseline," this former celebrity fitness trainer says with a coquettish smile.
Read this week's issue of rolling out as the reality star dishes with writer Danielle Canada on her upcoming fitness DVD, her connection with Stevie J, and sends a special message to people like Tamar Braxton, whom she believes is jealous of her success.
Visit rollingout.com to read the interview in its entirety. Be sure to check out the amazing photo shoot and exclusive video footage with celebrity photographer DeWayne Rogers.
About rolling out Magazine:
Rolling out, the nation's largest free urban weekly, is a digital and print magazine that focuses on the black experience in response to entertainment, politics, fashion, culture, sports and lifestyle points of interest. Headquartered in Atlanta, rolling out is positioned as the voice for the African American experience, using its newspaper as a platform in the marketplace to express urgency for education reform, and to document entrepreneurial endeavors and other relevant issues in the Diaspora. For information on rolling out, please log on to rollingout.com.