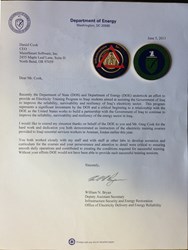 "Without your (MaintSmart's) efforts DOE would not have been able to provide such successful training sessions."
North Bend, OR (PRWEB) August 11, 2013
Iraq's Ministry of Electricity (MOE) currently uses MaintSmart CMMS software (http://www.maintsmart.com) and was recently trained in Amman, Jordan. This training was sponsored by the United States Department of Energy (DOE), United States Department of State (DOS) and coordinated through Pacific Northwest National Laboratory. Students included electrical engineers from throughout Iraq.
This training session lasted three days and also covered other aspects of Iraq's energy sector and is termed the "Electricity Training Program" by DOE. MaintSmart was honored and grateful to be able to participate in this program. MaintSmart's training covered all aspects of the MaintSmart CMMS (computerized maintenance management system) software using MOE gas turbine data for the examples and instruction.
MaintSmart is a critical piece of this training program effort by DOE and DOS in an effort to "continue to improve the reliability, survivability and resiliency of the energy sector in Iraq" as stated by the William N. Bryan, Deputy Assistant Secretary of Infrastructure Security and Energy Restoration of the DOE. Mr. Bryan went on to say: "Without your (MaintSmart's) efforts DOE would not have been able to provide such successful training sessions."
As with any training effort the willingness to learn, general subject knowledge and interaction of the students played a huge part also. Iraq is gifted with many highly skilled technical people and engineers. After careful deliberation the ministry chose MaintSmart back in 2009 for its ability to generate work orders automatically, MaintSmart's ability to be translated and the many analysis and reporting tools included in this CMMS software package.
MaintSmart CMMS Software is translatable into any language. MaintSmart can actually support multiple languages in the same database offering the options of user select, user assigned or location assigned language. MaintSmart is currently in use in 33 countries with recent notable translations that include Russian, Spanish and Arabic. The default language is English.
The Ministry of Electricity received training in several areas of the software that are particularly useful for their gas-powered turbine facilities:

MaintSmart's unique three-dimensional equipment hierarchy.
Automatic work creation via calendar day/time, weekday time, elapsed period or meter.
Automatic printing/emailing of preventive maintenance task lists, work orders, requisitions and virtually any available report.
Extensive analysis and reporting of work orders, preventive maintenance (PMs), equipment failures, reliability analysis and inventory/purchasing for equipment maintenance.
OLAP (Online Analytical Processing) or data cube analysis of all equipment asset management data in the program.
Hot sheet (http://www.maintsmart.com/pdfs/999p.asp) for notification of important daily tasks including requisitions and more.
MaintSmart CMMS Software has been providing CMMS (computerized maintenance management software) to industry, government, facilities, military, schools and more since 1997. Our annual software update (MaintSmart 4.1) includes more features important to the ministry as follows:
OEE (Overall Equipment Effectiveness) available December/2013.
Job audit and approval interface available December/2013.
Microsoft Project style scheduler available December/2013.
Call Daniel Cook, CEO, MaintSmart Software, Inc. for a personal discussion of how MaintSmart benefits the energy sector as well as any other equipment maintenance operation at dcook(at)maintsmart(dot)com or call +1-541-751-0450.
To learn more about MaintSmart go to our web site: http://www.maintsmart.com .