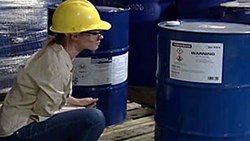 Novi, Michigan (PRWEB) August 12, 2013
As the summer months wind down, an important deadline for employee training affecting a multitude of industries is fast approaching. This deadline is for training on the new Global Harmonization System (GHS) for chemical labeling and handling guidelines. This December 1st is the deadline to have employees trained on this new system. Mastery recently released three more course titles, on our mobile-friendly Video On Demand (VOD) format, to help with key components for GHS training for many organizations.
OSHA's Hazard Communication (HazCom) Standard establishes every employee has a right to know about any chemical hazards present in the work place. To adhere to the HazCom rule, every employer writes and implements their own HazCom plan to educate every employee through demonstration and training.
Recently, the United Nations has developed a new uniformed worldwide system of Hazard Communication called the Global Harmonization System (GHS). There are two major changes as a result of the HazCom Standard incorporating GHS; container labeling and Safety Data Sheets (formally known as Material Safety Data Sheets).
In order to have employees trained on this new system of labeling elements and the new organization of Safety Data Sheets (SDS), the Occupational Safety and Health Administration (OSHA) has issued a deadline for completion of training for December 1, 2013. To help abide to this deadline, Mastery offers a variety of GHS training courses. Most recently released pertaining to GHS are these three new course titles, originally produced by Excal Visual:
•Understand GHS HazCom (version 1A) provides supplemental training for those who have had HazCom but need to learn GHS
•Understanding GHS HazCom (version 1B) provides training on both old and new portions of the Hazard Communication Standard
•Understanding GHS HazCom (version 2) presents HazCom information as the new standard, including GHS, but does not provide training as old labels and rules
The range of chemicals worked with every day is extremely broad. Industries such as manufacturing, transportation, processing, and some government operations use such wide range of chemicals, some of which can be hazardous to workers who are not prepared to protect themselves. Mastery continues to update and release training courses to make it easier and more convenient for employees to complete training for use on any mobile device. Ensure employees are properly trained by using Mastery's wide-ranging library of GHS courses.
About Mastery Technologies Inc.
Mastery Technologies established the e-learning industry's first Training Content Network. Mastery partners with leading video content providers to co-produce the largest, standardized, workplace e-learning library available. Mastery goes beyond connecting customers with content, by pro-actively supporting both customers and content partners. In this way Mastery fulfills its mission of helping build more successful, effective and amazing organizations.