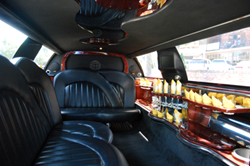 "I really enjoy exceeding customer expectations and making connections as I share with others the beauty of the Paso Robles area," says Paul Eitel.
Paso Robles, CA (PRWEB) August 12, 2013
Paso Robles limo operator Paul Eitel, the owner of Paradise Limousine Co., says the demand for local winery tours has been growing steadily with the booming tourist economy in San Luis Obispo County.
California's wine industry has seen phenomenal growth in recent years. The Central Coast alone now boasts over 300 wineries. Accompanying this growth is the increase in demand for Paso Robles wine tours in north county San Luis Obispo.
Eitel, a Paso Robles native, founded Paradise Limousine Co. in 2011 to provide a quality solution to the problem of finding a reliable, affordable, and adaptive chauffeur service in the wine tour industry. Since then, Paradise Limousine Co. has provided the ultimate Paso Robles wine country experience with the help of their excellent tour guides and elegant limousine.
Eitel has previously spent over 20 years in the car business where he developed an appreciation for quality automobiles and an understanding of the difference they can make on a passenger's experience. Paul took his passion for cars and fused it with his love of showcasing the unique beauty and landscape that characterizes Paso Robles by creating Paradise Limousine Co. Being a Paso Robles native for the last 30 years, Paul brings with him vast knowledge of local vineyards and on-goings in the community, as well as an energetic and refreshing personality.
Paradise Limousine Co. offers an unrivaled wine country experience that features first-rate limousines and expert wine tour guides. Paul strives to create the best experience possible and focuses on making each tour unique. A standard package includes a six-hour tour to many of the award-winning wineries and tasting rooms, along with complimentary lunch and champagne, all the while traveling comfortably in a luxury 22 foot Lincoln limousine.
"I really enjoy exceeding customer expectations and making connections as I share with others the beauty of the Paso Robles area," said Paul. His vision of top notch service becomes immediately clear the moment the door is opened on his spacious vehicle. Leather upholstery, dim lighting, and a refreshment bar are just some of the features inside these vehicles. Paradise Limousine Co.'s wide variety of services includes but is not limited to: limousine service, wedding limousine service, wine tours, and airport limousine service.
Paradise Limousine has been featured in the Paso Robles Daily News, San Luis Obispo County Visitors Guide and other local publications.
When looking to book a wine tour in the Paso Robles area, let Paradise Limousine Co. create an unforgettable and stress-free day enjoying the sights, smells, and tastes of the Central Coast. Paradise Limousine Co. is an affordable luxury on wheels, and the only way to truly experience Paso Robles Wine Tasting. Schedule your own VIP wine tour with Paradise Limousine Co. by calling (805) 610-2724.