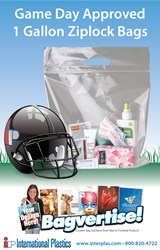 The San Francisco 49ers, Jacksonville Jaguars, Indianapolis Colts, and Oakland Raiders will be handing out clear ziplock bags with a built in handle supplied by International Plastics.
Greenville, SC (PRWEB) August 12, 2013
Are you ready for some football?
Just make sure that you have a clear 12" x 12" ziplock resealable plastic bag if you plan on attending any NFL football games this year.
One of the headlines prior to the opening games of the NFL pre-season is not about a particular player or which team is primed to win the Superbowl; it's about ziplock bags and the new NFL "All Clear" stadium policy. This new stadium security policy is a proactive step by the NFL that was designed for two reasons: to help speed up the security screening process for fans entering the stadium, and to enhance security and safety both inside and outside the stadium.
Although new policies like this are generally implemented slowly over time or with an initial grace period, that will not be the case with this new rule. Starting with the NFL pre-season games and continuing throughout the entire season, all fans entering the stadium with personal items will be required to use either a clear 12" x 12" (one gallon) clear ziplock bag, or an official clear plastic NFL Tote Bag (Official plastic tote bags are available through the NFL club merchandise outlets, or online at http://www.nflshop.com/All_Clear ). According to the NFL website, the "All Clear" stadium policy states that a 12" x 6" x 12" is the maximum size ziplock or clear plastic bag that will be permitted.
So what types of bags will no longer be permitted?
According to the NFL, backpacks, computer bags, camera bags, fanny packs, cinch bags, luggage, briefcases, traditional diaper bags, or any non-transparent bag that is larger than the permitted size of 12" x 6" x 12". In addition, each person will only be allowed to bring one 1 gallon bag into the stadium. And don't worry; fans can still bring their binoculars, cameras, smart phones, and tablets into the game - as long as they are not inside of a bag that does not comply with the new rules.
And what happens if you get to the stadium and do not have a clear one gallon plastic ziplock bag, but you need to bring some personal items with you?
Until fans are fully informed of the new policy, and as a courtesy to their fans, all NFL teams are making preparations. International Plastics has some insight into how some of these teams will handle the situation, even though each team's stadium personnel may handle the situation a bit differently.
Chris, with the San Francisco 49ers, contacted International Plastics looking for a plastic bag solution that would be compliant with the new NFL policy. Our staff drew up the plans and guided the 49ers to a solution that would not only be compliant with NFL league rules, but would also make it easy for fans to carry around their belongings. Soon, other teams like the Jacksonville Jaguars, the Indianapolis Colts, and the Oakland Raiders heard the news about our one gallon clear ziplock bags. These teams wanted to make implementing the new policy as easy and convenient as possible for the fans attending their games. Working with NFL team officials and examining the guidelines, International Plastics offered the teams a 12" x 12" clear ziplock bag with a built-in handle. And after sending samples to each of the teams, the 49ers, Colts, Jaguars, and Raiders all purchased these bags for use at their home games. Additionally, during the sales process we found out that many of the teams will set up a secondary perimeter around the stadium in which stadium and security personnel will be looking for fans that are carrying prohibited bags towards the gates. During the preseason, if a fan is located in this perimeter and does not have their personal items in an approved bag, stadium employees will hand out our complimentary resealable 12" x 12" clear ziplock handle bags. That way, fans carrying an unapproved bag can be assisted prior to entering the stadium, both speeding up the process of entering the stadium and helping to move fans along more smoothly.
Are there other sizes of clear ziplock bags that NFL fans can use?
Yes there are! Since 1964, International Plastics has been a leader in providing consumers and businesses with plastic bags. We have put together a list of the different styles and sizes of our clear one gallon plastic freezer bags and ziplock bags which comply with the new NFL All Clear policy. Here you can find plain 1 gallon clear ziplock bags, ziplock bags with a writeable white block area, ziplock bags with a hang-hole, bags with a slider zip-top, and even ziplock freezer bags. You also can also find the same 12" x 12" clear ziplock bag with the built-in handle purchased by the 49ers, Colts, Jaguars, and Raiders. And if you want a more personalized size or even a printed die-cut clear ziplock bag for your NFL game day activities, we offer a variety of custom sizes and printed solutions to show your team spirit.
Overall, the NFL hopes the new All Clear stadium policy will help fans move faster through security checkpoints, while also adding an additional layer of security to improve the overall fan experience.