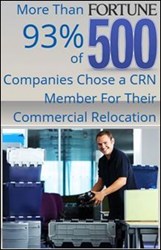 (PRWEB) August 09, 2013
The Commercial Relocation Network (CRN), leading network of commercial moving service providers, specializes in helping companies with unique relocation needs. Organizations that have specialized equipment, significant inventory of products to move or other unique needs require the services of a moving company that understands these special needs and has the equipment, knowledge and manpower available to make such moves as simple and problem-free as possible. Organizations that may require these specialized commercial moving services include libraries, manufacturing and plant facilities, laboratories and others.
With professional moving companies providing commercial moving services nationwide, Commercial Relocation Network is the perfect one-stop destination to find a provider that specializes in relocating focused companies. Clients will be able to find commercial moving services for local, national or international moves. Commercial Relocation Network providers will work one-on-one with clients to determine their moving needs and plan and manage the entire process.
Among the many specialized commercial moving services offered by CRN members are warehouse relocations, machinery moving and rigging services, file room or library relocations, chemical including hazardous material moves and much more. Other value-added services, such as de-installation, merge-in-transit, assembly, installation and configuration are also available. Clients requiring more than routine office relocation can benefit from the customized solutions and service models offered by CRN.
CRN prides itself on extremely efficient and well organized commercial relocation services. Offering niche services to targeted clients with specific requirements, calls for knowledge and experience that traditional moving companies do not have. With careful attention to each detail and experience in moving all types of specialized offices, CRN in the industry leader in commercial relocation services. Companies worldwide have turned to CRN for their most complex and sensitive moves.
To learn more about specialized commercial moving capabilities, visit http://www.officemovingcrn.com/ or call (866) 714-0111.
About The Commercial Relocation Network
The Commercial Relocation Network is a membership organization comprised of 50 of the largest office and industrial relocation companies in the United States; the process involved in a relocation company becoming a member of CRN is exceedingly stringent, meaning we offer you only the very best commercial relocation companies in today's market. Our movers can move you across the street or across the country in nothing flat, leaving you the precious time you need to continue running your corporation or to make sure your office still takes care of business, even during the move.