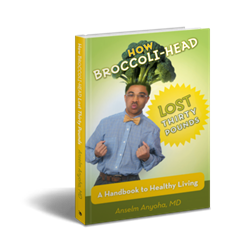 New York, NY (PRWEB) August 12, 2013
Medication is not always the answer to our health problems, says Dr. Anselm Anyoha.
In his new book, How Broccoli Head Lost Thirty Pounds, he shares his journey of losing 30 pounds to avoid taking medication to treat high blood pressure.
The book serves as a handbook for healthy living and offers readers information on discovering truths about their body, the relationship between obesity and diseases, how to equip oneself with credible information about food and how to appreciate the dynamics between weight management and physical fitness.
Dr. Anyoha hopes the book will serve as the ultimate guidebook for an everyday approach to improving one's health and losing weight. His approach as detailed in the book focuses on the idea that the calories we burn doing activities will never match the calories we gain eating. Since there is always going to be a food intake and activity mismatch, healthy eating is a great tool for weight loss.
"Sugar must be avoided at all cost as it is utilized by the food industries as a hook to getting to consumer appetites," says Dr. Anyoha. "By engaging in enjoyable exercises and doing away with sugar, unnatural sugar and refined sugar, you are halfway home to weight loss."
How Broccoli-Head Lost Thirty Pounds offers readers a unique view into the world of health and fitness from the viewpoint of a physician.
How Broccoli-Head Lost Thirty Pounds
By Dr. Anselm Anyoha
ISBN: 978-1-47598-759-1 (hardcover), 978-1-47598-757-7 (softcover), 978-1-47598-758-4 (E-book)
Hardcover price: $22.95
Softcover price: $12.95
E-book: $3.99
Available at amazon.com, barnesandnoble.com, iuniverse.com and http://www.dranyoha.com
About the author
As a physician, Dr. Anselm Anyoha pairs his professional knowledge of the medical world and how the body works with his personal experience losing weight for his health. He currently works in a private practice with a focus in pediatrics as well as working at St. John's Episcopal Hospital in New York.