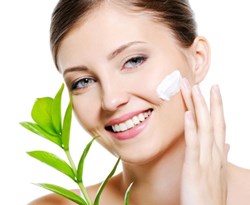 "Take 15 minutes out of your week to relax and treat your skin." says Heshelow
St. Petersburg, FL (PRWEB) August 14, 2013
Total care for stunning skin is a commitment. In addition to daily care with moisturizers, SPF protectors, retinol and collagen boosters, a weekly 15 minute facial can make a big difference. The Sublime Beauty® Pure Luxury Facial Mask is an anti-oxidant treat for the skin.
"We need to fight free radicals that constantly work at aging and breaking down skin quality," says Kathy Heshelow, founder of Sublime Beauty®. "Our anti-oxidant mask does just that in addition to luxurious moisturization of the skin. The mask also includes French white clay, long known to be a gentle exfoliation ingredient to draw out dirt, dead cells and grime."
Aloe, cucumber and collagen are also included in the mask ingredients.
The mask spreads easily on the face, throat and even decollette. After 10 to 15 minutes, it can be wiped from the face followed by a good rinse and cleanse. Skin will feel deeply hydrated and look brighter and healthier.
The sale of the anti-oxidant mask begins Monday August 12th. No special coupon is required.
"Take 15 minutes out of your week to relax and treat your skin," says Heshelow. "People will notice your glow."