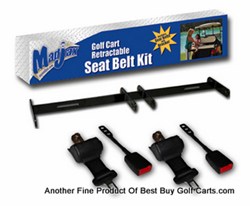 Golf carts are units of transportation, yet most individuals treat them like toys. Over 600 fatalities last year from golf cart accidents. Let's try to practice safety driving and respect for our carts and for others. MKR
Green Cove Spirngs, FL (PRWEB) August 09, 2013
Best Buy Golf Carts wants to remind everyone of golf cart safety this summer. Recent events in the news sadly inform us of the dangers of not operating golf carts properly. More often than not, individuals treat their golf cart like it's an adult toy to play with. Many display this attitude in their driving habits. Often times this behavior leads to "mishaps," damage and unfortunately, accidents to property and other people.
Many golf cart dealers hear a common request: "I want my golf cart to go faster than my neighbor's." When the customer is asked what their idea of an ideal speed would be, it's surprising to hear many think 30 or 40 mph. Golf carts are only designed with two small brakes to stop a cart going at a maximum of 11-14 mph. Customers who are misled by dealers or tamper with cart's speed capabilities set themselves up for unnecessary risks.
In addition to slowing down and practicing safe driving, Best Buy Golf Carts encourages everyone to install safety belts for all passengers; front and rear. Best Buy Golf Carts sells and installs both kinds of safety belts; lap and the newly designed retractable belt. In comparison to a serious accident, seat belts are relatively inexpensive. And studies show that the majority of casualties happen from the passenger being thrown from the cart while speedy left hand turns are made. In addition, most casualties would have been prevented if the riders were wearing a safety seat belt.
Best Buy Golf Carts golf cart super store is pleased to have some of the lowest prices on golf cart parts around and takes pride in having some of the cheapest prices on golf cart accessories without compromising quality. Outlet store prices, OEM type quality. For more information call (904)284-5300 or visit http://www.BestBuyGolfCarts.com.
About the company:
Best Buy Golf Carts has been in business in the Jacksonville area and Green Cove Springs since 1976 and supplies golf cart parts and accessories throughout the United States. Specializing in resolving golf cart electrical issues, Best Buy Golf Carts also sells new and pre-owned golf carts, golf cart parts and accessories, and builds customized carts. They are the areas only authorized Trojan & Powertron, USI battery dealer and they are an authorized Nivel and EZGO Dealer. Visit their large show room to view pre-owned, new and custom golf carts and their stocked parts room with some of the lowest prices on golf cart parts and golf cart accessories.