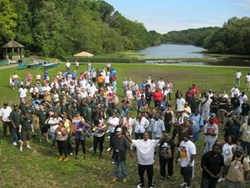 Paterson, New Jersey (PRWEB) August 12, 2013
In 2011, 45.6 million people aged 18 or older had a mental illness according to the 2011 National Survey on Drug Use and Health, an annual survey released by the Substance Abuse and Mental Health Services Administration (SAMHSA). However, only 31.6 million people received mental health services. In addition, 20.6 million people were classified with substance dependence or abuse in 2011, and 3.8 million people aged 12 or older received treatment for a substance use disorder.
To showcase these issues' impact on the local community, hundreds of Passaic County residents will join forces on September 7th to celebrate National Recovery Month with an organized walk starting at 9:00 am from 77 Hamilton Street and proceeding to East Side Park in Paterson, NJ. The event is sponsored by the Passaic County Board of Chosen Freeholders, the Recovery Center at Eva's Village and the New Jersey Governor's Council on Alcoholism and Drug Abuse.
The purpose of Recovery Month and the walk is to promote the societal benefits of prevention, treatment, and recovery for mental and substance use disorders. It celebrates people in recover, lauds the contributions of treatment and service providers, and promotes the message that recovery in all its forms is possible. It is a platform to spread the positive message that behavioral health is essential to overall health, that prevention works, treatment is effective and people can and do recover.
The Walk celebrates individuals who have sustained long-term recovery and honors people and organizations that make recovery possible. An added benefit of the celebration is that it provides hope to individuals and families who have been affected by the disease of addiction or mental illness.
Our hope is that with increased access to prevention, treatment, and recovery support services, families, policymakers, businesses, and health care providers, will reach out to those in need to assist them in finding appropriate treatment options. Not being able to access the appropriate treatment services, or not knowing where to find these services, should no longer be a barrier to achieving recovery.
Agencies that provide treatment services and recovery supportive services in Passaic County want to raise awareness of the importance of one's overall health and well-being, the critical need for professional treatment for those with substance use and mental disorders, and how recovery positively impacts our society as a whole.
This year's theme, "Join the Voices for Recovery: Together on Pathways to Wellness," represents the many ways that people can prevent behavioral health issues, seek treatment, and sustain recovery as part of a commitment to living a mentally, physically, emotionally, and spiritually healthy life. Combating substance use and mental disorders positively affects the workplace with reduced absenteeism and job turnover, improved productivity, and reduced health care costs. Relationships grow stronger once an individual is in recovery, and recovery positively benefits one's overall health and improves their quality of life.
For more information about the Passaic County Recovery Walk, call the Recovery Center at Eva's Village at 973.754.6784.